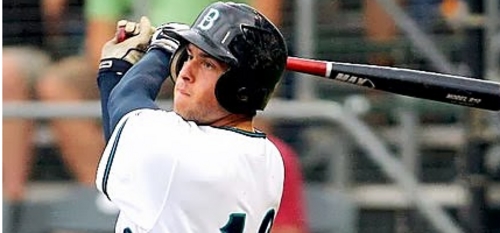 08/22/2013 8:04 AM
West Coast League president Dennis Koho announced the post season West Coast League awards which recognized Alex Calbick as the league's Most Valuable Player, five Bells with All-WCL honors, and the team as a whole receiving the Jim Dietz Sportsmanship Award.
Calbick, the third baseman from the University of Maine, won the WCL batting crown with a .384 batting average. He led the Bells in all major offensive categories including 5 HR, 26 RBI, and 13 doubles. His talent was on display during the WCL All Star Game where he went 2 for 3 with a double and an RBI.
"It is a terrific honor for Alex to have his terrific season topped off with this MVP award," said Bells general manager Nick Caples. "It was a pleasure watching Alex 'show up to work' every day and going about his business. We are proud of all he has accomplished here in Bellingham this summer, and are excited to see where his bright future takes him."
In addition to Calbick's MVP award, he was also named to the 1st Team All-WCL at third base. 2nd team All-WCL honors were earned by starting pitchers Nate Cole (1.70 ERA, 41 K), Andrew Olson (1.84 ERA, 43 K), and Jason Hager (2.65 ERA, 28 K). Nick Baker (1.62 ERA, 32 K) from Chico State was an honorable mention.
The Bells, managed by Gary Hatch, were recognized with the Jim Dietz Sportsmanship award. This award is voted on by other coaches and front office members in the league to recognize the team which best exemplifies the ideals of sportsmanship on the diamond.