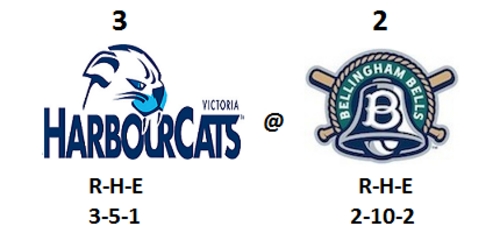 08/08/2013 5:53 PM
The Victoria HarbourCats would take a makeup game of a June 20th rainout on Thursday afternoon by a score of 3-2 at Joe Martin Field.
An excellent start on the mound by Bells right-hander Nick Baker (1-3) would be spoiled in the top of the eighth inning with Victoria taking the lead on two unearned runs. Baker went 7 1/3 innings, yielding three runs, one earned, on three hits and a walk. He struck out four and was saddled with the hard-luck loss.
In the eighth inning trailing 2-1, the HarbourCats brought home two runs when Bells manager Gary Hatch went to the bullpen with runners on first and second and one out. Reliever Andrew Olson retired the first batter he faced, Victoria's Brandon Smith, before an Eric Angerer error at first base allowed Jordan Ellis to reach, loading the bases. Alex DeGoti made sure the Bells would pay for the error, hitting a clutch two-out single to give the HarbourCats a lead they would not relinquish.
"A couple errors really cost us," said Hatch. "Our pitching was solid again today."
The Bells were only able to tally two runs on 10 hits Thursday afternoon.
"We outhit them again today," said Hatch. "We got a double digit hit total. You would think that would be good enough to get a couple more runs."
The two runs that the Bells did total on Thursday came in the bottom of the sixth inning with Alex Calbick and Eric Angerer crossing the plate.
Chris Beall led the Bellingham bats with two hits and a RBI on the afternoon. Calbick and Johnny Farrington also contributed two hits.
Former Bells pitcher Will Ballowe (2-4) picked up the win for the HarbourCats for his 7 2/3 innings of work, allowing only two runs on 10 hits, three walks and a strikeout.
Both teams will now head across the border for a three game series in Victoria starting on Friday night at 7:05. All the action can be heard online at 930kbai.com or on the radio at AM 930 KBAI.