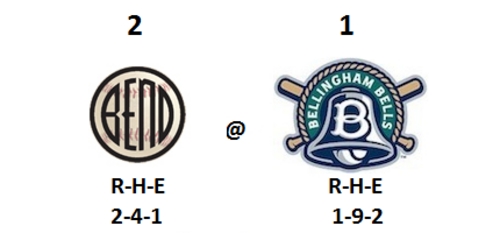 08/03/2013 10:09 PM
Two unearned runs in the top of the fifth inning was all Bend would need on Saturday night to take game two 2-1 from the Bells on Gary Hatch Day at Joe Martin Field.
The first 1,000 fans in attendance were able to take home a one-of-a-kind Gary Hatch bobble head. Along with the souvenir item, countless family members and previous players under the coach were in attendance, making for an emotional pre-game ceremony.
"My kids all came in from a long ways away, along with players all the way back from the 70s," said Hatch. "I'm so old, I even have players whose parents I coached."
On the field, it was looking like it might be a perfect ending for the occasion.
With two outs in the bottom of the ninth inning, Johnny Farrington and Jack Meggs both worked full count walks to reach base. A wild pitch on a 2-1 count with Johnny Sewald batting allowed each runner to move forward 90 feet, but Bend fireballer David Murillo would make sure to send the Elks back to the hotel happy, firing upper-90s fastballs past Sewald, eventually resulting in a strikeout swinging on a 2-2 pitch.
"Everything was lined up for a magical moment," said Hatch. "But it just didn't happen. He got Johnny on a tough pitch."
Bells starting pitcher Nate Cole was outstanding over the course of seven innings, allowing only two unearned runs on three hits, two walks, and four strikeouts.
Unfortunately for Cole (4-2), the right-hander would take the loss after two errors on himself, a bobble on a grounder and a miscommunication resulting in a pickoff throw into right-field led to two Bend runs.
"He (Cole) thought that catcher Jake Bailey was calling for a pickoff play," said Hatch. "He didn't realize that Angerer was playing behind the runner."
Elks starting pitcher Garrett Anderson (3-1) would earn the win for his 5 2/3 inning performance, allowing one run on seven hits and a walk, striking out one. Murillo picked up his third save.
The Bells lone run came in the bottom of the sixth after Alex Calbick got things going with a one-out bunt single. Eric Angerer followed with a base hit of his own to left field, prior to a Chris Beall single to score Calbick. Elks reliever Michael Jordan limited further damage, retiring Bailey on a flyout to right to end the inning.
"It was a tough one tonight," said the Bells head coach. "We really thought we were gonna get 'em there at the end."
Both teams return for the series finale on Sunday at Joe Martin Field. Game time is 3:05 and all the action can be heard online at 930kbai.com or on the radio at AM 930 KBAI with Mike Weisman on the call.