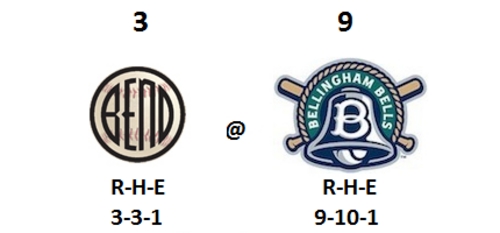 08/02/2013 11:36 PM
The Bellingham Bells took on the Bend Elks Friday night and in the process took the monkey off their back, breaking a four game losing streak in convincing fashion with a 9-3 win.
Bells starter Andrew Olson pitched seven strong innings to get the win and improved to 3-2 on the season. He limited the Elks to three runs on three hits and struck out eight to increase his season total to 41.
Will Dennis came on in relief in the eighth and struck out the side in the ninth to nail down the win.
"Olson did a great job tonight," said Bells manager Gary Hatch. "He kept them off balance and pitched a whale of a ball game. And (Jake) Bailey called a good game.
"Dennis came in and threw two real good innings, too."
With the win and Walla Walla's loss to Victoria tonight, the Bells moved into second place, one-half game behind division leading Wenatchee.
Bend opened the scoring with a run in the third, but Bellingham barged back in the bottom half to forge a 5-1 lead on a string of hits that began with Chris Beall's single to center field.
Trent Chatterton moved Beall to second on a sacrifice bunt and Beall then advanced to third on a passed ball. Jack Meggs beat out an infield grounder to put men on first and third with one out and Johnny Sewald at the plate.
A passed ball allowed Beall to score from third and Meggs advanced to second. Meggs moved to third on a wild pitch. Sewald and Johnny Farrington both walked to load the bases and Alex Calbick in the batter's box. He unloaded a double to the right center wall to score both Meggs and Sewald and made it a 3-1 game.
Ryan Kirby knocked in Farrington and Calbick with a single to right center to round out the scoring and give the Bells a 5-1 lead that they would not relinquish.
In the bottom of the fourth, Chris Beall cracked his first home run of the year to increase the Bells lead to five. On the night, Beall went 3 for 5 at the plate and raised his batting average to a solid .306.
"It was just a good game for us after those losses," Beall said. There wasn't a lot of pressure on us because we've been playing good ball, but it was a matter of turning it around against Bend."
After leaving 32 players on base and some errant fielding plays in three games against Medford, Hatch was happy to see his team drive in some runs and make some key plays against the Elks.
"The players got key hits tonight and did a good job at the plate," said Hatch. We never feel safe with a four-run lead, maybe with seven runs, but not with four. In the field, Meggs made a couple of great catches in right and Sewald made a sensational play in center. Those kinds of plays really make a difference in the outcome."
The Elks cut the Bells lead in half with a two-out, two-run homer in the top of the fifth only to see the Bells match the effort with two runs of their own in the bottom of the inning and get an insurance run in the eighth to make it 9-3.
The second game of a three-game series with the Elks gets underway Saturday night at 7:05 p.m. at Joe Martin Field. All the action can be heard on the radio at AM 930 KBAI and online at 930kbai.com with Mike Weisman on the call.