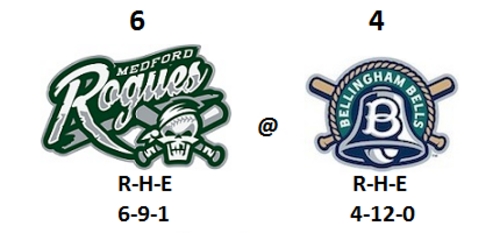 07/30/2013 11:32 PM
A strong pitching performance backed by a 12-hit attack would normally be enough to take home a win, but pitching woes in the ninth and 10th innings let the Medford Rogues walk away with a 6-4 victory over the Bellingham Bells.
With a home series-opening win at hand, Bellingham pitcher Jason Hager took a 4-3 lead into the top of the ninth only to see Rogues second baseman Joe Chavez hit a 1-2 pitch over the right field wall to even up the score.
The Bells were unable to provide game-ending heroics in the bottom of the inning with a record crowd of 2,874 looking on -- breaking the attendance record set only two weeks ago -- and the game transitioned into Bellingham's first extra-inning affair of the season.
After striking out the leadoff batter in the 10th, reliever Aaron Sandefur faced six more batters, sandwiching a a second strikeout with two hit batsmen and three walks as the Rogues put across two runs to take the lead they would not relinquish.
The game wasn't without a particularly hefty performance by the middle of the Bells batting order, which accumulated eight of the Bells 12 hits, including three by Ryan Kirby and two each by Alex Calbick and Chris Beall.
In the go-ahead seventh, Kirby led off with a single and eventually came around to score the lead run on singles by Angerer and Jack Meggs.
Medford had jumped into a 2-0 lead in the top of the first on the strength of three hits, but the Bells answered with two in the home half, scoring on an RBI double by Calbick, who then scored two batters later on a passed ball.
The Rogues retook the lead in the second, but Bellingham persisted and came back to score the tying run in the fifth.
Hager pitched eight strong innings and scattered eight hits before giving up the big one to Chavez in the ninth. Sandefur took the loss, pitching 1 2/3 innings. Despite the hit parade, Bellingham failed to capitalize enough with runners in scoring position, leaving a total of 14 men on base.
With the loss, Bellingham missed an opportunity to move a game ahead of Walla Walla, a loser to Wenatchee tonight, and now stands at 24-21 to remain tied with Sweets for first place in the North Division. They will look to halt a two-game losing streak tomorrow night against Medford, which has a four-game winning streak of its own going into the second of the three game set.
Game time for Wednesday night is 7:05 p.m. and all the action can be heard online at bellinghambells.com with Mike Weisman on the call.