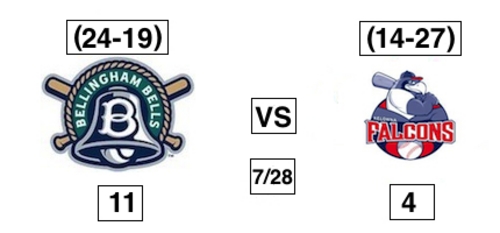 07/28/2013 8:56 PM
The floodgates opened offensively for the Bellingham Bells as the sole leaders in the North division defeated the Kelowna Falcons 11-4.
A night after Bellingham only scored one run in the first seven innings, the Bells surpassed that before Kelowna even stepped to the plate. Falcons starter Austin Rice barely survived the first, as the Bells scored two to begin the game. After a Ryan Yamane walk and stolen base, Ryan Kirby picked up his first of three hits and two RBI's on the night as he singled home Yamane. An Eric Angerer single put men on the corners for Michael Annunziata, who picked up an RBI on the sacrifice fly that allowed Kirby to cross the plate.
Bells starting pitcher Nate Cole was spotted a lead before he picked up the baseball, and though he was not as sharp as he had been over the past month, he did enough to pick up his team leading fourth win on the season.
Already leading 2-0, the Bells added three runs in the second inning, and two more in the third. Johnny Farrington, Yamane, and Kirby each had RBI singles in the second, and Kelowna harmed itself with an error that led to two unearned runs in the third. By the time Rice had completed three frames, the Falcons trailed 7-1. Rice picked up his fourth loss of the season, as Kelowna fell to 14-27 on the year.
Bellingham blew the game away with a big number for the fourth time, a three run sixth inning. In the frame, Michael Annunziata picked up a two RBI single, which preceded an RBI base hit by Chris Beall. Cole finished off the sixth inning, and left with a 10-3 lead on route to the victory.
Three Bells relievers combined to go the remaining three innings, as Chris Van Dyke, Will Dennis, and Jacob Ehret each went a single frame to cap off the game two victory. Every member of the Bells starting lineup reached base at least once, and all but Trent Chatterton picked up a hit. Kirby highlighted the offense with three hits and two RBI's. Yamane, Angerer, Beall, and Jack Meggs each added two hits as well, while eight different Bells scored at least one run.
The victory put Bellingham alone atop the North division at 24-19, half a game ahead of Walla Walla, and 1.5 in front of Wenatchee who lost for the third consecutive night. Bellingham will go for the sweep on Monday night at Elks Stadium in Kelowna. First pitch is scheduled for 6:35 PST and the broadcast can be heard on the Bells online stream on BellinghamBells.com