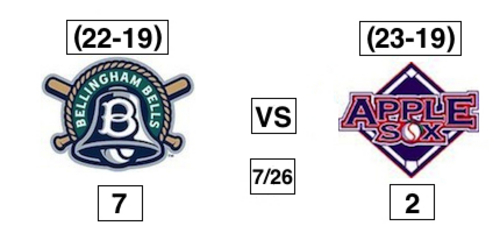 07/26/2013 10:49 PM
The Bellingham Bells closed in on first place in the North division with a 7-2 victory over first place Wenatchee.
After an 11-3 loss at the hands of the AppleSox on Thursday night, Andrew Olson put the team on his back, as he was sensational yet again. The lefty picked up his second win of the season, after he faced just one over the minimum in six shutout innings.
It didn't take long in the rubber match for the Bells to jump out to an early lead. Wenatchee starter Jake Bruml, in his second start of the year vs. the Bells, didn't fare much better than in Bellingham as he picked up his second loss of the year. After he walked Ryan Kirby with one out in the second inning, Eric Angerer hit what looked like an inning ending double play ball. But the flip to the shortstop covering the second base bag was mishandled. Kirby was safe at second, and Angerer was safe at first on the error by Joe Mello. Bellingham took advantage of the miscue, as Jack Meggs picked up an RBI base hit that put Bellingham in front 1-0, a lead the Bells would not relinquish. Jake Bailey made it 2-0 as he picked up the first of three RBI's on the night as he brought home Angerer.
After a single run in the fourth inning off of reliever Mitch Yada, the game was put out of reach in the sixth. Yada remained in the game, as he allowed four runs in the frame. Alex Calbick and Michael Annunziata hit consecutives singles to begin the inning, which allowed Ryan Kirby to pick up an RBI as his sacrifice fly scored Calbick from third. The sacrifice was followed by Angerer's second single of the night, which set things up for Bailey yet again. With two on, Bailey doubled home Annunziata and Angerer and put away the AppleSox. The inning concluded after Farrington drove in Bailey that made it 7-0.
Olson was pulled after six strong innings, as Aaron Sandefur pitched a scoreless seventh and eighth. Marc Huberman struggled in the ninth, but got out of the jam and gave the Bells the victory. Huberman allowed three hits and walked one, as Wenatchee avoided the shutout with two runs in the ninth.
The win by the Bells, paired with the Walla Walla loss to Cowlitz brought Bellingham even with the Sweets and AppleSox in the loss column, only half a game out of the division lead. Bellingham heads north for the first time in 2013, as a three game series with the Kelowna Falcons begins Saturday night. First pitch is scheduled for 6:35 and can be heard on AM 930 KBAI and online at 930kbai.com with the pregame beginning at 6:05.