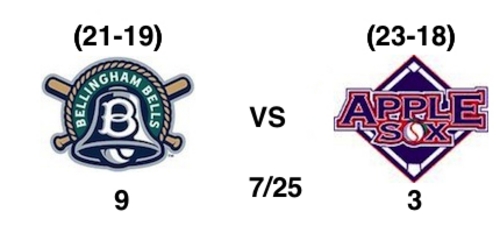 07/24/2013 10:56 PM
The post all-star break road trip got off to a bang for the Bellingham Bells, as six runs crossed the plate for the visitors before the AppleSox even came to the plate. The Bells took game one 6-2 in Wenatchee.
After two days off for the all-star break, it took only two batters to give the Bells an early 1-0 lead. Johnny Sewald singled the second pitch of the night off starter Stuart Patke, and came home on an RBI double from his ASU teammate Chris Beall. Beall has hits in 10 of his last 11 games. After Alex Calbick was retired for the first out of the night, Ryan Kirby doubled home Beall to make it 2-0 Bells.
Michael Annunziata was retired for the second out of the night before things got out of hand. Eric Angerer walked, which was followed by RBI singles by Johnny Farrington and Jake Bailey. Already ahead 4-0, Farrington then scored on a wild pitch, before Chatterton picked up the sixth hit of the inning, which plated Bailey. Patke finally got out of the inning as he retired Sewald, but that would be the night for the righty, as he stepped off the mound down 6-0.
Jason Hager was handed a six run lead before he stepped onto the field. But Wenatchee cut that lead, as the AppleSox scored a pair in the bottom of the first inning. The leadoff hitter Joe Mello reached on an error, and he scored on a double by Grant Palmer. Palmer then came across the plate on a ground out by Andre Real. That would be it for scoring on the night. It was 6-2 Bells after one inning, and that is where it ended.
Three Wenatchee relievers combined to go eight scoreless frames, though they gave the Bells plenty of chances to put the game out of reach. Bellingham left 11 men on base, seven of which in scoring position. But the lack of offense after the first inning didn't matter, as Jason Hager was dominant on the mound. He picked up his second win of the year, as he finished eight innings, and allowed only two unearned runs. Hager induced 14 ground ball outs, and struck out two without walking a batter, as his ERA dropped to 2.56.
Sean Patke allowed all six Bells runs to score, as he picked up his second loss on the year. The AppleSox bullpen kept Wenatchee in the ballgame, but it did nothing, as the opener went the way of the Bells. Five different Bells picked up RBI's, while six scored runs. A pair of hits from Sewald, Kirby, and Bailey highlighted 11 total on the night.
With the Bells win, coupled with the Walla Walla loss in Cowlitz, the Bells now sit just half a game behind both Wenatchee and Walla Walla. Bellingham has taken the first four in the seasons series from the AppleSox, and will look to make it five in a row Thursday night in Wenatchee. It's the first time since 2000 that the Bells have won the season series from the AppleSox. First pitch of the middle game of the series is scheduled for 7:05 PM, as Mike Weisman has the call on Bellinghambells.com