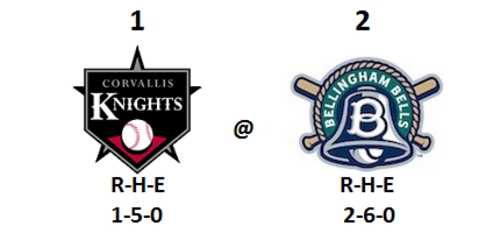 07/17/2013 9:36 PM
Nick Baker (1-1) was sensational on the mound for the Bellingham Bells on Wednesday night, pitching a complete game to lead the home team to a 2-1 victory over the Corvallis Knights.
The Bellingham starter earned his first win of the season for his efforts over the nine innings, allowing only one run on five hits and two walks. Baker struck out three Corvallis hitters on the night.
"Nick was just special tonight," said Bells manager Gary Hatch. "He had that look in his eyes and pitched a whale of a game."
Hatch made sure to also give credit to Baker's battery mate on the night, Bellingham catcher Jake Bailey, "Our catcher was also great out there tonight," said the Bells manager of Bailey, Baker's teammate in both Bellingham and in college at California State Chico. "They had a good rhythm going and it takes the other team out of their rhythm."
The Bells scored their first run in the third inning. Jack Meggs began the inning with a leadoff double to left field past a diving Dane Lund. Johnny Farrington then took advantage of the infield playing in, slapping a grounder past first base to put runners on the corners with nobody out.
Johnny Sewald then stepped to the plate with the runners on the corners, attempting a sacrifice bunt that saw a great diving catch by Knights third baseman Cody Lenahan to give the Bells their first out of the inning. Ryan Yamane made sure Bellingham would make use of the Meggs leadoff double, knocking a single to right to put the first run of the night on the board.
Corvallis evened it all up in the top of the fifth inning, using a Chris Rabago sacrifice fly to score Kevin Kline and make the score 1-1.
Yamane would be the hero for the Bells in the sixth inning, reaching on a leadoff double to right, then making use of smart base running to move to third on a passed ball and scoring on a wild pitch to give Baker all of the cushion he would need on the night at 2-1.
"There is not a harder working guy than Yamane," said Hatch. "He was going the second the ball hit the dirt. In a tight ballgame like that, taking advantage of little things makes the difference."
With the win, the Bells move into a tie for second place in the North Division at 19-16. The loss drops Corvallis to 21-15 and into a tie with Bend for first in the South Division.
Bellingham returns to action on Friday night as they travel to Walla Walla to battle the Sweets. Game time for Friday night is 7:05 and all the action can be heard on the radio at AM 930 KBAI and online at 930kbai.com with Mike Weisman on the call.