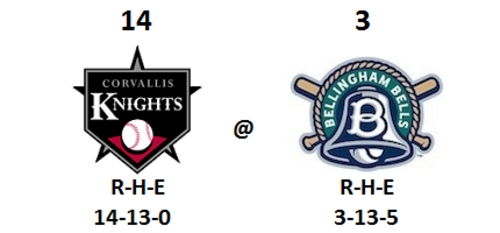 07/16/2013 10:23 PM
It was a complete reversal of fortunes on Tuesday night at Joe Martin Field, with the Corvallis Knights taking game two by a score of 14-3.
Five Bellingham errors helped the Knights to big six-run innings in both the second and fourth, along with Corvallis tallying solo runs in the first and fifth.
"They played really well, there is no getting around that," said Bells manager Gary Hatch. "We had plenty of opportunities tonight though."
On the evening, Corvallis and Bellingham each totaled 13 hits.
The Bells brought home their three runs in three separate innings, totaling one each in the second, third, and ninth.
Trailing 7-0 in the second inning, the Bells started their scoring with a Johnny Farrington single to score Christopher Beall.
Bellingham added another in the third, when an Alex Calbick one out double was followed by a Michael Annunziata single to put runners on the corners for Ryan Kirby. The University of San Diego prospect cut the deficit to 7-2 with an infield single to score Calbick, but that was as close as the Bells would get on Tuesday.
On the night, the Bells struggled with wild pitches and passed balls said Hatch, "We had some real difficulty with balls in the dirt, balls past the catcher, and wild pitches," said the Bells manager. "It is always real difficult to play catch-up in baseball."
Bells starting pitcher Jake Paulson (1-3) took the loss, working through 3 1/3 innings with 11 Knights runners crossing the plate, five of those runs earned, on six hits and three walks.
Corvallis starter Elliot Surrey (3-1) earned the win, tossing 5 2/3 innings, yielding 11 hits, but only two runs.
The loss drops the Bells to 18-16 on the season. With the win, Corvallis improves to 21-14, good enough for first place in the South Division.
Tuesday night marked a record attendance night for the Bells, as 2,766 loud $2 Tuesday fans filled up Joe Martin Field.
The series finale will take place on Wednesday night at 7:05, right back at Joe Martin Field. All the action can be heard on bellinghambells.com with Mike Weisman on the call.