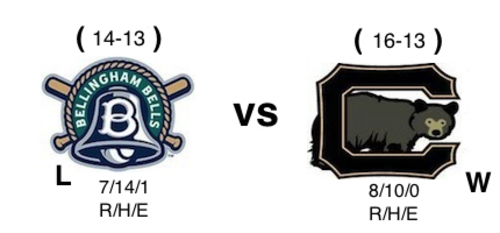 07/13/2013 10:47 PM
It was another tough night for the Bells at Story Field, as Bellingham dropped a heartbreaker, 8-7, and fell for the third time in a row.
The night got off to a good start, as the Bells jumped out to a 5-0 lead in the 3rd inning. With one run already home courtesy of a Ryan Yamane groundout, RJ Ybarra stepped in with Calbick on second and Yamane on third. He got a pitch in his wheelhouse, and took it out of the park for his second home run on the season, picking up three RBI's, now tied for the team lead. The inning finally ended with a Chatterton groundout, but the Bells sent 10 men to the plate, and led 5-0. That would be the last the Bells saw of starter Zach Wilkins, who picked up the no decision, allowing five earned runs in just three innings.
Bells starter Luke Morrill would fare a bit better, but he didn't make it out of the 3rd inning. The righty just didn't have his command throughout his outing. Morrill allowed two runs in 3.2 innings pitched, but walked seven. He'd pick up a no decision, leaving with a 5-2 lead after he allowed a two RBI single to Devon Gradford.
Matt Bower would come on in relief for Morrill, but wouldn't have much success either. He kept Cowlitz off the board until the 6th. With runners on first and second, Kyle Knigge picked up a two RBI double, scoring Taylor Bryant and Austin Grebeck, as Cowlitz made it 5-4 after six innings.
Chris Beall added on a run for the Bells in the 7th, as he picked up one of his five singles on the night, scoring Eric Angerer from third. Nick Baker came in for Bower midway through the 7th inning, getting out of a jam. But Cowlitz fared better against Baker in the 8th. Trailing 6-4, Cowlitz used three singles and a walk, eventually tying the game on a Devyn Bolasky single.
RJ Ybarra led off the 9th inning against reliever Brian McAffee with a walk and was pinch run for by Johnny Farrington. The Biola infielder moved to second on a sacrifice bunt by Eric Angerer. Farrington's Biola teammate, Michael Annunziata, was able to beat out an infield ground ball, resulting in men on the corners for Beall. Beall singled for the fifth time on the night to bring the go-ahead run home.
Leading 7-6 in the bottom of the 9th, Marc Huberman came in looking for his fifth save of the season. After retiring the leadoff hitter, things began to head in the wrong direction. Paul Martinez struck out swinging, but advanced to first on the dropped strike. Konnor Armijo singled on an 0-2 pitch, and a wild pitch resulted in runners on second and third with only one out. Taylor Bryant walked, loading the bases for Tanner Pinkston, who hadn't had a hit all season with a runner in scoring position. He hit a sharp ground ball just over the third base bag, scoring Martinez and Armijo, to give Cowlitz the 8-7 walk-off victory.
Brian McAffee picked up his league leading fifth win on the season, while Huberman allowed his first earned runs of the season, and dropped his second game. Johnny Sewald and Michael Annunziata each picked up three hits on the night, while Chris Beall went 5-5 with 3 RBI's in his best game as a member of the Bells.
Bellingham looks to avoid the sweep at 5:05 on Sunday evening. The broadcast can be heard on AM 930 KBAI, and online at 930kbai.com, as Mike Weisman has the call from Story Field.