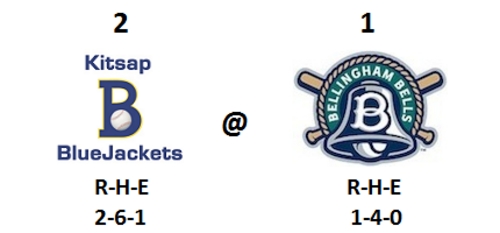 07/10/2013 10:06 PM
Bellingham Bells starting pitcher Andrew Olson was outstanding on Wednesday night, however the Bells would drop the series finale with the Kitsap BlueJackets 2-1.
The Seattle University left-hander Olson (1-2) did not allow a run until the ninth inning, where Kitsap tallied two. The BlueJackets manufactured the runs with back-to-back two out bloopers by Danny Sheehan and Alex McKeon, followed by a Daniel Orr double to plate both of the runners.
On the night, Olson was lights-out, allowing only the two runs over 8 2/3 innings, striking out eight Kitsap batters and walking none. He would be saddled with the hard-luck loss to drop to 1-2 on the season.
Neither team would score until the ninth inning, where all of the runs for the game were tallied.
For the Bells, a ninth inning rally was started when RJ Ybarra sparked the Bellingham bats with a leadoff double past diving Kitsap center fielder Daniel Jewett. Aaron Sandefur would then enter the game to pinch-run for Ybarra.
Johnny Sewald continued the inning with a single right back up the middle to put runners on first and second for Johnny Farrington. The Bellingham shortstop advanced the runners to second and third on a sacrifice bunt. A Ryan Yamane groundout to first base would allow Sandefur to score the lone run of the night for the Bells.
With two outs in the inning, Kitsap reliever Matt Lunde would get the BlueJackets headed home on a high note, forcing pinch-hitter Trent Chatterton to groundout to end the game.
The game was a pitching duel from start to finish.
"Olson pitched a whale of a game," said Bells manager Gary Hatch. "You have to tip your hat to their guys, they pitched really well also."
On the evening, countless hard-hit fly balls would get caught in the wind, resulting in more fly outs than typical at Joe Martin Field.
"The weather was a little different tonight, we haven't seen the wind blow like that yet," said Hatch. "It seemed like every fly ball was going to be caught out there."
The loss drops Bellingham to 16-13 on the season, while Kitsap improves to 12-21 with the win.
Bellingham will now travel to Cowlitz for a three game series with the Black Bears. The series will begin on Friday night at 6:35. All the action can be heard on AM 930 KBAI and 930kbai.com with Mike Weisman on the call.