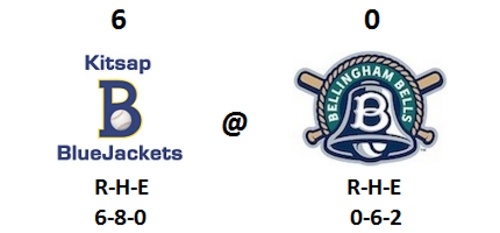 07/08/2013 10:15 PM
The Kitsap BlueJackets were strong in the field, on the mound, and at the plate Monday night at Joe Martin Field, helping them to a 6-0 victory in the series opener with the Bellingham Bells.
It was a night where the Bells would fall victim to a great start by opposing pitcher Devin Smith. The right-hander for Kitsap earned the win to improve to 2-3 on the season. On the night, Smith went five scoreless innings, allowing four hits and a walk.
The Kitsap bullpen was also strong, with Danny Thomson, Kyle McKay, and Sam Fry shutting the Bells down over the final four innings.
In the top of the second inning, Kitsap started the scoring on a Vince Sablan groundout to plate Francisco Torres.
The BlueJackets added four more in the third inning, putting the Bells in an early 5-0 hole.
Bellingham starting pitcher Jake Ehret (0-2) from UCLA took the loss in his first start of the season. The right-handed pitcher went 2 2/3 innings on the evening, allowing five runs, four of them earned, on five hits and four walks. Ehret struck out three on the night.
Out of the bullpen, Matt Bower of Washington State University shined for Bellingham. The lefty went 4 1/3 innings and allowed only an unearned run on two hits, two walks, and four strikeouts. Bower entered the game on a mission, striking out the first four Kitsap batters to face him.
Alex Calbick led the offensive charge for the Bells, totaling two hits, including a double.
The best chance to score for Bellingham came in the fifth inning. With one out, Johnny Farrington reached on a walk. After a Jack Meggs groundout and an Eric Angerer flyout to center field, Calbick would then crush a double to center field. Unfortunately for the Bells, an excellent throw from Kitsap center fielder Daniel Jewett would reach the plate before the speedy Farrington, allowing BlueJackets catcher Dustin Dhanani from Blaine to tag out the Bellingham shortstop, ending the inning.
"Calbick has continued to hit well," said Bells manager Gary Hatch. "Derek Atkinson also hit three balls really hard tonight right at guys, but it was just one of those nights."
It was a night when hard hits for the Bells would seem to always find a Kitsap glove.
"We hit some balls hard," said Hatch. "But we could not find the gaps tonight."
The loss drops Bellingham to 15-12 on the season, while Kitsap improves to 11-20 with the win.
The Bells and BlueJackets return to Joe Martin Field on Tuesday night at 7:05. It will be $2 Tuesday at the ballpark. All the action can be heard on bellinghambells.com with Mike Weisman on the call.