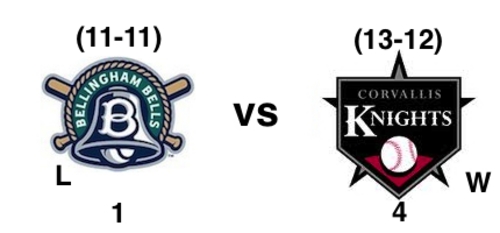 07/03/2013 10:31 PM
The Bellingham Bells dropped their 5th straight as they fell 4-1 to the Corvallis Knights. Outhitting the Knights nine to four wasn't enough for the Bells, as they fell back to .500 at 11-11.
After 4.5 scoreless innings, the Knights would get on the board with an unearned run on a sacrifice fly by Peter Van Gansen. The Bells would answer with their only run in the top of the 6th, as RJ Ybarra would pick up the 3rd consecutive 2-out hit, scoring Alex Calbick from 3rd. But that would be the only scoring of the night for Bellingham.
Bells starter Nick Baker would pick up the no-decision, allowing only one run (unearned), on two hits, and two walks. Jake Ehret would make his first appearance of 2013, but would pick up the loss. Ehret gave up two runs (one earned), on one hit, and a walk, as he would fall to 0-1.
Corvallis would take the lead for good on a run scoring single by shortstop Chris Rabago in the 6th inning. Nathan Blackham would successfully squeeze another run home in the 7th, and Gabe Clark would bring in an insurance run in the 8th. Knights starter Casey Bloomquist would pick up his third win on the season (3-0) with a strong eight-inning performance. He'd strike out six, without walking a batter in the win.
Three Bells would finish the game with multiple hits. Mike Annunziata busted out of his slump with three singles. Ybarra would do the same, picking up a single and double, while Alex Calbick would get multiple hits for the 5th time in the last 10 games, as he raised his average to a league best .468.
The Bells will look to avoid the sweep on Thursday night at Goss Stadium. First pitch is scheduled for 6:05. The broadcast can be heard on BellinghamBells.com, as Mike Weisman will have the call from Corvallis.