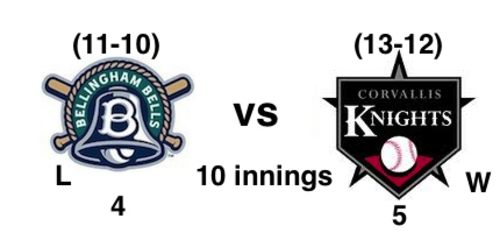 07/02/2013 10:46 PM
A new night, new location, but same result for the Bells, as they dropped tonight's series opener to the Corvallis Knights 5-4 in 10 innings.
Bells starting pitcher Matt Bower, picked up a no decision in his second start of the summer. He would struggle to get through four innings, allowing three runs on four hits. He walked four, and hit a batter while striking out two.
The Knights would get the scoring started off Bower in the 3rd. Bower would load the bases for Kevin Kline, who brought home a run when he got hit by a pitch. Corvallis would make it 2-0 as Joey Duffin drew a bases loaded walk, before Bower stopped any further damage.
Bower would hand it over to the bullpen down 3-0 after the 4th. Bellingham would get on the board with two runs in the 5th inning. Jack Meggs would pick up his third RBI on the season with a base hit, scoring newcomer Trent Chatterton. A suicide squeeze by Johnny Farrington would score Eric Angerer cutting the deficit to one, at 3-2.
Bellingham would tie it up in the 8th, on an Alex Calbick RBI double. But the Bells would leave runners on 2nd and 3rd, and would prove to be costly. In the bottom of that inning, Aaron Sandefur, who would pitch 4.2 innings of solid ball out of the pen, allowed a solo home run to Gabe Clark, which gave Corvallis a 4-3 lead into the 9th inning.
Bellingham would manufacture a run in the 9th, on two singles, and a safety squeeze RBI from Johnny Farrington, his second successful squeeze play of the game.
Bellingham would go down in order following a leadoff single from Alex Calbick in the 10th. Against Mark Huberman, Corvallis had a runner on 3rd with two outs for Grant Melker, the nine hitter in the Knights lineup. He hit a slow roller to second baseman Trent Chatterton, who was unable to make the play to first base, as the Knights walked off with a 5-4 victory in the 10th.
Brandon Choate would pick up the win, his first of 2013, while Huberman would get the loss on the unearned run, his first of the season. Ryan Yamane picked up two hits as he extended his team high hit streak to eight games, while Alex Calbick would get back on track with three hits of his own. Bellingham's season long losing streak is up to four games, as they sit 1.5 games back of the HarbourCats and Sweets in the north division.
Game two of the series is set for 7:15 on Wednesday night at Goss Stadium in Corvallis. The broadcast can be heard on BellinghamBells.com, as Mike Weisman will have the call.