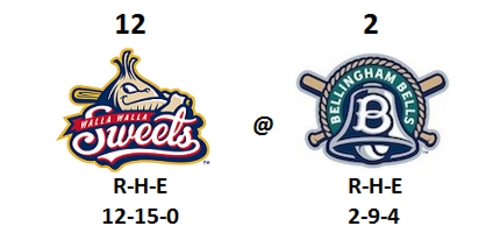 06/29/2013 11:02 PM
The Walla Walla Sweets added runs in each of the first five innings and 15 total hits on their way to a 12-2 victory over the Bellingham Bells on Saturday night at Joe Martin Field.
Bells starter Luke Morrill would struggle against the Sweets hitters, only going two innings on the night while allowing five runs, four of them earned, on four hits and two walks. Morrill took the loss to fall to 0-1 on the season.
Sweets leadoff batter Kramer Lindell was hit by a pitch to start the game. Lindell, who had numerous family members at the game to celebrate his birthday, would then steal second and advance to third on a wild pitch before a Renae Martinez single to score him.
Following the Walla Walla early run, the Bells would tally one of their own after a Jack Meggs leadoff walk, a Johnny Farrington sacrifice bunt to move Meggs to second and an Alex Calbick base hit to plate him and tie the score at 1-1.
Unfortunately for the Bells, the Sweets bats would continue to find success against Morrill in the second and reliever Chase Radan after that, extending their lead to 6-1 after their half of the third inning.
Bellingham added a run after a Farrington single to lead off the bottom of the third and another Calbick single would put runners on first and second for Eric Angerer. The Bells first-baseman would come through with a solid base hit to score Farrington from second and cut the lead to 6-2.
That was as close as the Bells would get on the night though, as three Walla Walla runs in the fourth and one in the fifth extended the lead to 10-2, with the Sweets adding two more in the ninth inning.
Walla Walla starting pitcher Sean Silva (2-0) earned the win for his 5 1/3 innings of work in which he allowed two runs on six hits and four walks, striking out two.
Bells manager Gary Hatch credited the Sweets for their strong effort on the night, "We have no excuses," Hatch said. "They outplayed us and their pitchers threw the ball well."
Every batter in the Walla Walla lineup except leadoff hitter Lindell would tally a hit on the night.
"They (Walla Walla) hit it all over the field today and had good approaches at the plate," Hatch said.
The Bells return to action on Monday as they begin a short road trip, beginning with a doubleheader against the Kitsap BlueJackets. They will then travel to Corvallis to square off with the Knights. All the action can be heard on bellinghambells.com with Mike Weisman on the call.