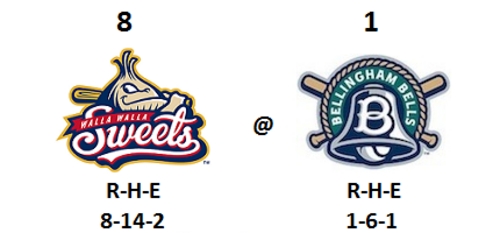 06/27/2013 9:25 PM
In the opening game of a three game series, the Walla Walla Sweets bats would make a loud entrance, totaling 14 hits on their way to an 8-1 victory over the Bellingham Bells.
Already leading 2-1, the Sweets offense would find success in the seventh inning off Bells pitchers Will Dennis and Aaron Sandefur.
Dennis would start the inning on the mound, yielding a single, a walk, and a hit batter to load the bases. The next batter for Walla Walla, Kris Paulino, would also be hit by a pitch, scoring Dominic Miroglio from third.
Bells manager Gary Hatch would then turn to Sandefur. The first batter to face him, Reggie Southell, would extend the lead with a two-run single, prior to a Kramer Lindell double to score two more for the Sweets. Sandefur would then get out of the inning allowing no further damage. However it was too late, as Walla Walla had already tacked on five runs in the frame.
The lone run for Bellingham came in the bottom of the sixth on RJ Ybarra's sacrifice fly to score Johnny Farrington. Aside from that sixth inning, the Bells offense would never solve Sweets starting pitcher Chris Lovejoy. The tall lefty from Ball State University tallied four strikeouts on the night, allowing only the one run on six hits and a walk. Lovejoy earned the win for his efforts to improve his record to 2-0 on the season.
A bright spot for the Bells was the performance of starting pitcher Andrew Olson. The Seattle University left-hander tossed five innings, allowing one run on seven hits and a walk, while striking out six.
In the eighth inning, Eric Angerer of the Bells would turn in an outstanding defensive play, sliding into the bullpen fence to make a catch in foul territory on a ball hit by Matt Mendenhall.
Both teams return to Joe Martin Field on Friday night for game two of the series. Game time is 7:05 and it will be Superhero Theme Night at the ballpark, with a Dinger Bobblehead giveaway to the first 750 fans. All the action can be heard on AM 930 KBAI and 930kbai.com with Mike Weisman on the call.