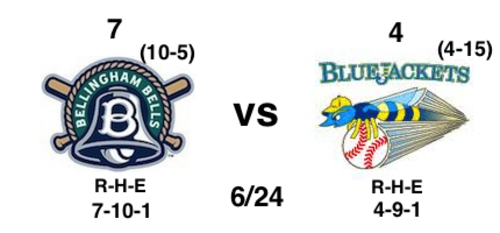 06/24/2013 11:31 PM
For the second time in four days, the Bells jumped on the opposing starting pitcher and scored four runs in the first inning to take control.
Coming off of two walk-off victories in the series against Kelowna, the Bells offense would take this game out of question early. Kitsap starting pitcher Gary Steindorf wouldn't make it out of the first inning. A two RBI single by Alex Calbick, and a two run home run from Eric Angerer, would give the Bells the 4-0 lead in the top of the 1st, a lead they would not relinquish.
Bells starter Matt Bower would go four innings, allowing just two runs (one earned) on his way to a no decision in his first start for Bellingham. He would leave with a 6-2 lead, and hand it over to UCLA righty Chase Radan to go the rest of the way.
Radan would pick up the victory, finishing the final five innings, allowing two runs on four hits. Radan would get into trouble in the 9th, as the BlueJackets threatened bringing the tying run to the plate with only one out, but the righty would get Alex McKeon to fly to left, and John Bodenhamer to ground into a game ending fielders choice, to give the Bells the series opening victory.
Bellingham improved to 6-0 in series openers, and will look to take the first two from the BlueJackets on Tuesday night at the Kitsap Fairgrounds. First pitch is set for 6:35 PM, and the broadcast can be found online at Bellinghambells.com
Game 1 Box Score: http://www.pointstreak.com/baseball/boxscore.html?gameid=119804