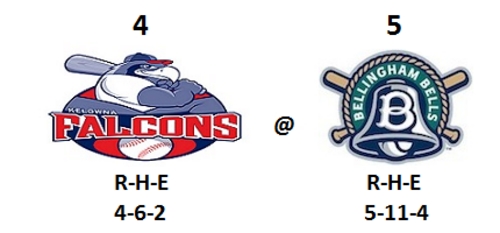 06/23/2013 6:12 PM
The Bellingham Bells would put real meaning to the phrase walk-off, after a Johnny Farrington full count walk with the bases loaded brought home Ryan Kirby to give the Bells a 5-4 win over Kelowna on Sunday afternoon.
Heading into the ninth inning facing a 4-1 deficit, the Bells offense would break through with Cody Lahman on the mound for the Falcons. After a Johnny Sewald strikeout to begin the inning, Ryan Yamane would start the rally off with a base hit. Alex Calbick would then be the benefactor of a four pitch walk, prior to a RJ Ybarra infield single to load the bases.
With the bases loaded, Kirby would step to the plate for the Bells. The University of San Diego prospect would hit a dribbler which was bobbled by Falcons second baseman Joe Robbins, allowing Yamane to score and reloading the bases.
Eric Angerer would then tie the game up with one swing, driving in two runs with a solid line drive double. Following the Angerer double, the Falcons would intentionally walk Nate Anderson, reloading the bases for Farrington with only one out. Farrington would start his plate appearance well, working a full count against Lahman. Then, Lahman would walk home the winning run for the Bells, giving Bellingham the win in the game and series.
Strong pitching late in the game would allow the Bells a chance at the ninth inning rally, as Aaron Sandefur, Will Dennis, and Michael Rucker would combine to toss 3 2/3 scoreless innings to end the game.
Prior to the ninth inning, the Bells would also have a chance to cut into the Kelowna deficit in the seventh inning. After a run to start the frame due to a error on pitcher Preston Gray, Bellingham would load the bases with no outs. Reliever Darren Kolk would then strike out Ybarra and Kirby swinging, prior to Falcons center fielder Grayson Porter making a catch while running into right fielder Chandler Tracy to end the inning for the Bells.
However, as has been the case this season for the Bells, their resilience would pay off with another home win.
The Falcons tallied their four runs in large part due to the long ball again on Sunday. This time, Robbins would hit a home run to lead off the game and Stetson Olson would add a homer in the sixth inning as well.
Monday night, the Bells will return to action as they head to Bremerton to face the Kitsap Blue Jackets. Game time will be at 6:35 and Mike Weisman will be calling all the action at bellinghambells.com.