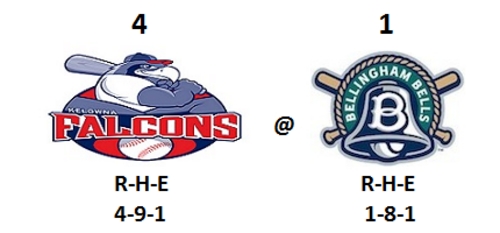 06/22/2013 10:00 PM
The Kelowna Falcons would use a solo home run from Chandler Tracy in the second inning and a two-run homer by Grayson Porter in the fourth to top the Bellingham Bells 4-1 on Saturday night.
Falcons starting pitcher Caleb Olson would throw a complete game, allowing only one run on eight hits and two walks. Olson would also strike out two Bells batters.
Johnny Farrington would score the only run of the night for Bellingham after reaching on a blooper base hit over Kelowna third baseman Preston Gray in the first inning. An error by Falcons shortstop Nathan Robertson on a Alex Calbick potential double play ball would put runners on first and second with one out. Eric Angerer would then put the Bells solo run of the night on the board with a base hit, scoring Farrington.
After a Ryan Kirby walk to load the bases, Olson would settle down and retire the next two Bells hitters to get out of the inning.
Kelowna would quickly answer the Bells early run with one of their own in the second on Tracy's homer that ended up clearing the batters eye in center field.
With Stetson Olson on base in the fourth inning, the Falcons would again use a long home run, this time by Porter, to take their first lead of the night at 3-1.
In the seventh inning, Kelowna added their final run after a passed ball on a strike three pitch allowed leadoff hitter Robby Witt to reach base. A sacrifice bunt and a groundout would move Witt to third base, followed by a Joe Robbins single to score him from third.
Marc Huberman pitched three strong innings in relief of Bells starter Nick Baker, striking out four Falcon hitters and allowing one run. Jacob Phillips would finish the game on the mound for Bellingham, tossing 1 1/3 scoreless innings.
The Bells and Falcons will return to action Sunday afternoon in the final game of the series. The game will start at 3:05 at Joe Martin Field. Preston Gray will get the start for Kelowna, while John Albert takes the mound for Bellingham. All the action can be heard on AM 930 KBAI and at 930kbai.com with Mike Weisman on the call.