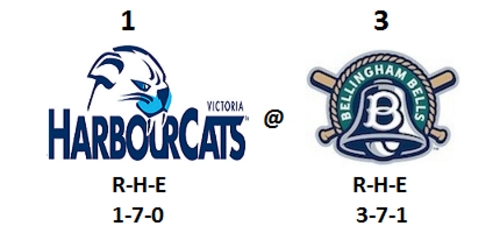 06/18/2013 9:25 PM
Two first inning runs would give Bellingham Bells starting pitcher Jason Hager a lead he would not relinquish, as the Bells defeated the Victoria HarbourCats 3-1 at Joe Martin Field on Tuesday night.
The Bellingham starter tossed 16 out of 18 first pitch strikes, while yielding only three hits and two walks in five strong innings of work.
Bells manager Gary Hatch credited the ability of Hager to get ahead of the Victoria hitters as a key reason to his success on the night
"They (Victoria) were really struggling against Jason tonight," Hatch said. "A lot of that was his ability to keep the hitters off balance."
HarbourCats starting pitcher Joe Navilhon would walk Johnny Sewald to start the game. Sewald would then steal second base, followed by a Ryan Yamane base hit to make the score 1-0 Bellingham. The Bells would add on another run when an Alex Calbick base hit would score Yamane from second base.
In the second inning, Navilhon would run into more problems, as the Bells had runners at second and third base with two outs. Navilhon would get out of the jam surrendering no runs after Calbick grounded out to second base.
The score would remain 2-0 Bells until the fourth inning, with Calbick again at the plate. This time, the Bells third baseman would drive in a run on a solid drive to center field to score Johnny Farrington.
Aaron Sandefur would come in to relieve Hager in the sixth inning for the Bells, with the HarbourCats finding early success against the right hander. The first two Victoria hitters would tally singles off Sandefur, prior to Alex Real striking out looking and Greg Fettes flying out to right fielder Jack Meggs. With two outs, Chris Lewis would drive in the only run of the game for the HarbourCats on a single to right field.
Strong bullpen work from that point forward from Sandefur, Marc Huberman, and Mike Connolly would help the Bells hold the 3-1 lead.
In his first appearance for the Bells, Connolly would impress, striking out the final two HarbourCat hitters of the night. The right hander from the University of Maine is a 27th round draft pick of the 2013 MLB draft to the San Francisco Giants.
The two squads return to action on Wednesday night at Joe Martin Field as the first pitch will come at 7:05. All the action can be heard at bellinghambells.com with Mike Weisman on the call.