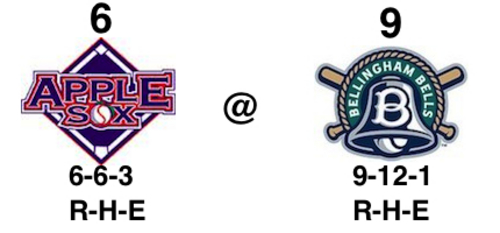 06/12/2013 10:40 PM
All three aspects of hitting, pitching, and defense would come together to ignite the opening day crowd at Joe Martin Field, where the Bellingham Bells topped the Wenatchee AppleSox 9-6.
A Michael Annunziata bases loaded double in the bottom of the first inning would score three runs to get the Bells going early.
The Bells would put one more on the board in the second, as a Johnny Farrington sacrifice fly would score Ryan Yamane from third base to give Bellingham the 4-0 lead.
Wenatchee would tack on three runs in the third inning. Those would be the only runs they would score off Bells starter Jason Hager for the night.
The gap would widen in the fourth inning, as Eric Angerer connected on a base hit to score Yamane and make it 5-3 Bellingham.
Another offensive highlight for the Bells would come in the sixth inning, as a Nate Anderson triple was followed by a Ryan Yamane RBI double. The Bells would tally another run in the inning to extend the lead to 7-3.
"I was really impressed with our ability to put the ball in play," Bells manager Gary Hatch said. "We're really getting things together and it makes it fun to watch."
Hager would go four innings, giving up three runs as he picked up a no decision.
In relief of Hager, Aaron Sandefur would save the bullpen, throwing five innings out of the pen. The righty would yield two runs to the AppleSox in the top of the ninth on a Andre Real home run. For his efforts, Sandefur would earn the win, improving his record to 2-0 on the season.
Hatch was pleased with the performance of his men on the mound, "Excellent job by the pitchers tonight."
The Bellingham pitchers would receive plenty of help from the defense in this one as well, with only one error on the evening.
Wenatchee would commit three errors.
The second game of the three game series between the two teams will be on Thursday night at Joe Martin Field, where the first pitch is scheduled for 7:05. Action can be heard on bellinghambells.com.