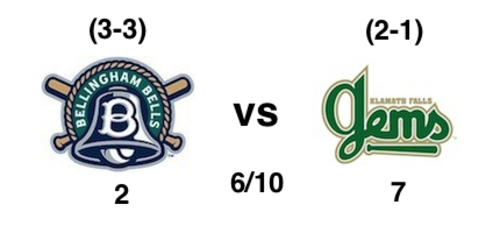 06/10/2013 10:49 PM
The Bellingham Bells dropped the rubber match with the Klamath Falls Gems to wrap up an opening six game road trip at 3-3, losing 7-2.
The offense was able to muster only five hits, as Gems starting pitcher Nick Sabo was dominant, allowing two runs in six strong innings, while striking out eight. Sabo would pick up the win to go to 1-0 on the season. John Albert would start the game with four scoreless frames, but a failed rundown would lead to two runs as the Gems went ahead 2-1 after five innings. Albert picked up the loss, going 5.2 innings, allowing four runs on five hits, striking out four. It was a night where the righty pitched better than his final line.
Bellingham would retake the lead on a leadoff homerun in the 6th from Johnny Farrington, his first of the year, but would surrender the lead in the bottom of that inning, on an RBI single by Dempsey Grover. Klamath Falls would add on three more insurance runs in the 8th, when a ball took a bad hop on Bells second baseman Ryan Yamane. The Bells offense would go down 1-2-3 in the 9th, to cap things in Klamath Falls.
The bottom half of the Gems order continued to hit Bells pitching, as the 5-9 hitters went 6-14 (.428 AVG) with three RBI's, four BB's, and six runs scored. With the win, Klamath Falls moved to 2-1 on the season, currently third in the south division. The Bells loss drops them back to .500, currently fourth in the north division, 1.5 games behind the 3-0 Victoria HarbourCats.
The Bells will return home for Wednesday night's home opener as the Wenatchee AppleSox come to Joe Martin Field for a three game set. The first 750 fans through the gates will receive a Bells limited edition magnet schedule presented by Little Caesars. Fans can also experience postgame fireworks Wednesday night, presented by Barclay's Realty and Management.
First pitch is scheduled for 7:05 PM. The game can be heard on AM 930 KBAI and 930KBAI.com as Mike Weisman will have the call at 6:35.
Game 6 box score: http://www.pointstreak.com/baseball/boxscore.html?gameid=119869