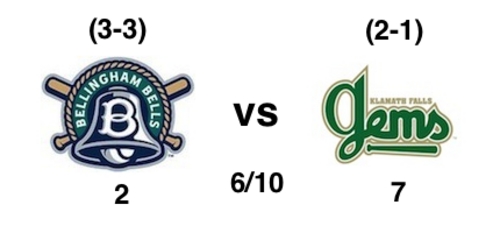 06/09/2013 8:47 PM
Game two in Klamath Falls didn't go as planned, as the Bells (3-2) dropped the middle game of a three game set to the Gems 8-2. For the first time in 5 games, the Bells starting pitcher didn't get through the 5th, as multiple run innings for the Gems (1-1) in the 3rd and 4th proved too much for the Bells.
Leading 1-0 in the 3rd, Bells starter Chris Van Dyke (0-1) allowed a home run to Michael Tittle, double to Tyson Dahl, and RBI single to Cole Trezek that gave the Gems a 2-1 lead. Klamath Falls would continue to give starting pitcher Brandon Horth (1-0) run support as they scored four more times in the 4th inning. Highlighted by a safety squeeze by Dempsey Grover, the 4th would knock Bells starter Chris Van Dyke out of the game. He would pick up the loss, allowing six runs on six hits in 3.1 innings pitched.
Gems starter Brandon Worth kept the Bells off balance at the plate, allowing only three hits and five total base runners in six innings of work. Striking out four, Horth would allow only one unearned run as he picked up his first win of the season.
Ian Buckles would pitch the final 4.2 innings for the Bells, to give the shorthanded Bells bullpen a rest. Skye Adams would pitch two scoreless innings to close out the game for Gems head coach Mitch Karraker, as he picked up his first win in 2013.
Both teams will look towards Monday night's rubber match as the Bells hope to win back-to-back road series to start the season. First pitch scheduled for 6:35 PM in Klamath Falls. The call of game three will be online at Bellinghambells.com as Mike Weisman will be on the air starting at 6:25.
Game 5 box score: http://www.pointstreak.com/baseball/boxscore.html?gameid=119873