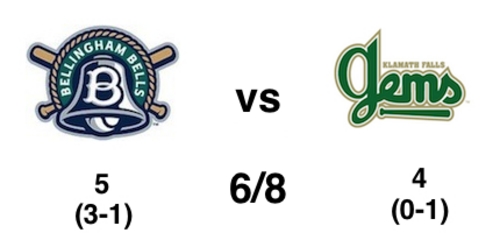 06/08/2013 10:21 PM
New city, same result for the Bellingham Bells. The Bells spoiled another home opener here in Klamath Falls, as they took down the Gems 5-4.
It was a close back and forth game, par for the course for the Bells, as they've now played all four games close into the late innings. The win moved the Bells to 3-1, Gems fell to 0-1 in 2013.
Leading 1-0 in the bottom of the 5th, where Klamath Falls would take their first lead of the season thanks to a trio of hits from the seven, eight, and two hitters would help push two runs across in the 5th. Both starting pitchers would complete five innings, but both would pick up no decisions as once again it turned into a bullpen game.
Bells starter Nick Baker dazzled on the mound, going five strong innings, allowing five hits, two runs (one earned), while striking out nine and walking none. Tyler Johnson would pitch more erratic than Baker, but would give up only one run in his outing. He walked five, hit two more, and gave up four hits, but worked in and out of trouble all night.
Trailing 3-1 in the top of the 7th, the Bells would work one out walks from Farrington, Annunziata, and Angerer, to load the bases for Ryan Kirby. The recent San Francisco Giants draft pick would bring Farrington home on an RBI single. A wild pitch and fielders choice would bring two more home for the Bells.
With a two run deficit in the bottom of the 9th, Klamath Falls would push one across and put runners on first and third with only one out. Marc Huberman would enter the game for his second save opportunity to face the cleanup hitter Dylan Rogers, who had already gone deep earlier in the night. Rogers would line a pitch right back over the first base bag, where Eric Angerer would make the catch, and touch first to double off Matt Carroll, to clinch the 5-4 win for the Bells.
Game two of the three game set here in Klamath Falls is set for Sunday night, first pitch scheduled for 5:05 PM. Mike Weisman will have the call on AM 930 KBAI, or 930kbai.com