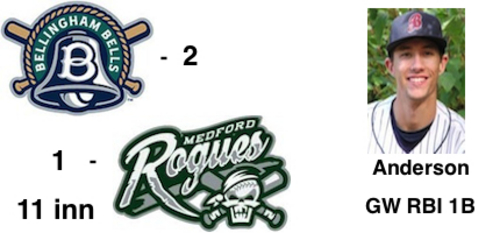 06/07/2013 11:29 PM
For the second time in three nights, the Bells (2-1) needed extra innings to get passed the Medford Rogues (1-2), as Bellingham picked up the 2-1 victory in 11 innings.
Pitching was the name of the game tonight as both teams put together quality starts and sensational bullpen work. Luke Morril started for the Bells and worked around early control issues, to settle down and pitch six strong innings, allowing only one run on two hits. His counterpart Mac Acker for the Rogues also picked up a no decision but was dominant in five innings of no hit, shutout work. It became a battle of the bullpens, where the Bells did just enough to win.
Aaron Sandefur was brilliant in relief for the Bells, as he picked up the win. Coming in in the 7th inning, Sandefur pitched four shutout innings, allowing only one hit while striking out 10. He worked around three walks and a few infield errors as the Rogues threatened multiple times, but came up empty after picking up a run in the 1st inning.
Nate Anderson stepped to the plate with the bases loaded and two outs in the top of the 11th, when he hit a slow roller that pulled the first baseman off the bag. Matt Page would have no play, as Ryan Yamane scored from third. Marc Huberman would come in to start the 9th, and after allowing the first two batters to reach, the USC lefty would catch NAIA player of the year Matt Page looking for the second out of the inning. Michael Rucker would come in for the second time in three days, and he would get Corey Wynant to pop out to the catcher to give the Bells the victory.
The Bells will look to put a winning streak together on Saturday night, as they head to Klamath Falls to take on the Gems, in game one of a three game set. First pitch is scheduled for 6:35. Mike Weisman will have the call on 930 AM KBAI or 930kbai.com.
Box score: http://www.pointstreak.com/baseball/boxscore.html?gameid=119882