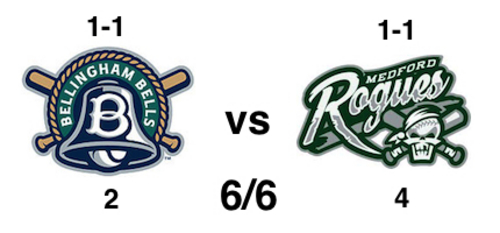 06/06/2013 9:58 PM
The Bells (1-1) dropped the middle game of a three game set to the Medford Rogues (1-1) Thursday night as Medford defeated Bellingham 4-2. For the second night in a row, Medford scored three runs in the bottom of the 8th to take the lead.
Bells starter Nate Cole (0-0) pitched well in his first start of the season, but picked up the no decision. Cole went seven strong allowing only one run on eight hits. He struck out six and didn't walk a batter, but picked up a no decision as the bullpen faltered for the second night in a row.
Seven different Bells each came up with a single base hit, but the only runs scored came in the two run 5th without the benefit of a hit, as Bellingham strung together a walk, error, wild pitch, and sacrifice fly plating two in that inning. That would be it offensively for the Bells, as the Medford bullpen would hold them scoreless the rest of the way.
Up 2-1, Ian Buckles (0-1) allowed all three batters he faced to reach base, all of whom scored in that three run 8th inning, on an error, wild pitch, and sacrifice fly. Buckles would pick up the loss, as the Bells weren't able to mount a second consecutive 9th inning rally at Harry and David Field.
Conner Harris (1-0) would pick up the victory for Medford, as he provided 2.2 innings of shutout relief after coming in for starting pitcher Mike Bradshaw with one out in the 6th. Bo Cornish would work out of a first and third, one out jam in the 9th, as Walker Olis would hit into a 6-4-3 double play to end the game. Harris would pick up the win in relief, Olis the save.
The rubber match between Bellingham and Medford is set for Friday night at 7:35 PM. Luke Morrill and Mac Acker scheduled to start for the Bells and the Rogues. The broadcast of the third game of the set can be heard from bellinghambells.com as Mike Weisman will have the call from Medford.
Game 2 Box Score: http://www.pointstreak.com/baseball/boxscore.html?gameid=119887