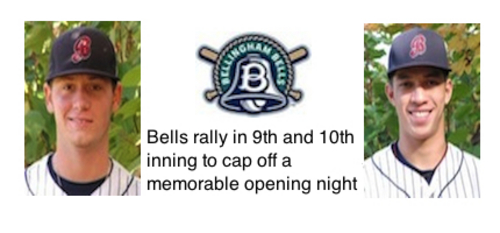 06/05/2013 10:48 PM
#BellsStrong, the tagline of the 2013 Bells season couldn't be more evident than game one of the 2013 campaign. Behind a strong outing from the opening day starter Jason Hager, and the bats of Aaron Sandefur and Ryan Malone, the Bellingham Bells (1-0) downed the Medford Rogues (0-1) 11-8.
Jason Hager would pick up a no decision, but pitched a solid 6+ innings, allowing three runs, two of which earned, walking one while striking out two. He left the game with a 5-2 lead, but it would become a bullpen game after the Rogues tied it with three runs in the 7th. Using only one hit, the Rogues used two walks, and five wild pitches to get back into the ballgame.
After the Bells scored two runs in the top of the 8th to retake the lead at 7-5, Medford stuck for three of their own in the bottom of the inning. Michael Rucker was on the mound for all three runs, but they were all unearned. After retiring the first two batters of the inning, Ryan Teel hit a ground rule double, which was followed by back-to-back walks to load the bases. After a passed ball bringing one run in, Rucker induced a ground ball off the bat of Ray McIntire, but it squeezed through the legs of second baseman Ryan Yamane, allowing two additional runs to score, giving Medford an 8-7 lead heading to the 9th.
But the Bells wouldn't quit, as they pushed the tying run across the board in the 9th, on a two out, bases loaded, infield single from shortstop Johnny Farrington. Rucker would pitch a 1-2-3 9th inning, sending the game into extra innings.
Michael Annunziata would lead off the 10th reaching on an error and would prove to be the winning run. Eric Angerer was hit by a pitch for a second time, and Aaron Sandefur would follow with the same result. With the bases loaded and no one out, Ryan Malone would flare a pitch down the right field line, clearing the bases with a three RBI double.
Marc Huberman would replace Rucker (1-0) to begin the 10th. Sandwiching two walks with two strikeouts, Huberman would face pinch hitter Vince Ampi with the bases loaded and two outs. With the combined 8th wild pitch of the night, Ryan Teel would attempt to score from 3rd. Bells catcher Ryan Malone was quick out of his stance to recover the ball, and Huberman jumped off the mound to cover the plate. A perfect throw retired Teel 2-1 to end the four-hour marathon of a game.
The Bells return to action tomorrow night in Medford for game two vs. the Rogues. First pitch is set for 6:35.