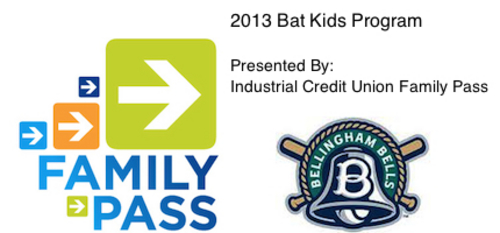 05/01/2013 8:22 AM
Bellingham Bells Baseball and Industrial Credit Union Family Pass have partnered to present the 2013 Bat Kids program. The Bells offer the chance for boys and girls between the ages of 11 and 14 the opportunity to be a Bat Kid this summer! Bat Kids will receive a Bells replica home jersey to keep, and will catch all the action from the best seat in the house: the dugout!
"The Bat Kid program was a huge success last summer, so we look forward to continuing it for a second season," said Bells general manager Nick Caples. "Our number one goal is to create memories at the ballpark that will last a lifetime, and one way to do that is getting fans involved from the first pitch to the last. In partnership with Industrial Credit Union, this program is designed to create the ultimate fan experience!"
· Applications must be filled out and submitted at any Industrial CU branch
· Applicants must be available for a full series
· Bat Kids and 1 chaperone will each receive a ticket for each game of the series
· Kids will be selected and contacted directly by a member of the Bells' front office
Applicants will be available on May 1st at all Industrial Credit Union branches, and signups will remain open until the schedule is full.