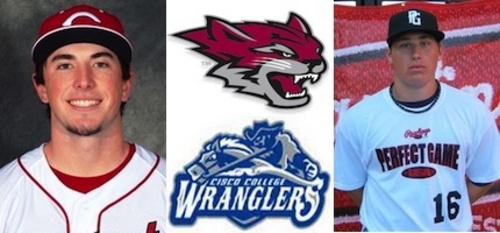 04/25/2013 3:36 PM
Bellingham Bells Baseball has added two more to the 2013 roster, signing pitcher Nate Cole from Cisco College and infielder Eric Angerer from Chico State University.
Cole, a 6'2 right handed starting pitcher from Plano, TX, is a redshirt freshman at Cisco College in Texas. He attended Episcopal School in Dallas before beginning his collegiate baseball career. In nine outings in 2013, Cole is 6-0 with a 3.06 ERA. In 50 innings pitched, the righty has struck out 40 while walking only 18. Cole will finish this season with Cisco College before heading to Abilene Christian University for the 2014 season. "Nate comes to us highly recommended and fits in very well into our philosophy here in Bellingham," said Bells general manager Nick Caples. "He has the ability to strike batters out at a strong rate, and he rarely beats himself by allowing walks."
Angerer is a 5'11 right hand hitting infielder from Danville, CA. A junior at Chico State University, he is teammates with another 2013 Bell, starting pitcher Nick Baker. Angerer has started 37 games so far for the Wildcats, hitting .292 with 16 RBIs and 1 HR. He is fourth in DII with 24 HBP, which boosts his OBP to .439. Angerer plays first base at Chico State, but can also contribute in the outfield. "Eric also comes highly recommended, in this case by Damon Lessler who was a terrific assistant coach with us last summer," said Caples. "He is an on base machine which will drive opposing pitchers crazy. Bells fans will really enjoy and appreciate his hard nose style of play."