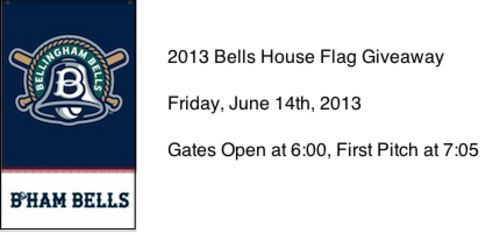 04/18/2013 2:05 PM
The Bellingham Bells will celebrate United States Flag Day this summer, commemorating the adoption of the US flag in 1777.
Bells fans can help the team celebrate this occasion, as the Bells partnered with John Howie Steak to present a 2013 Bells House Flag.
"All throughout Whatcom and Skagit Counties, rooms are decorated with posters of pro athletes in addition to pennants and flags of sports teams. We are excited to add a new Bellingham Bells flag to the mix," said Bells general manager Nick Caples. "Fans can pledge their allegiance with these 3' x 5' flags by hanging them on walls, fly outside your house, and displayed at local places of business."
The flags will be given away during the first home stand of the 2013 season, when the Bells take on the Wenatchee AppleSox on Friday, June 14th. Fans should show up early, as the limited edition Bells house flag will only be available to the first 750 fans. Gates will open at 6:00, with first pitch scheduled for 7:05.