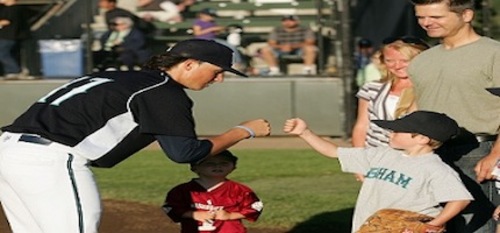 04/03/2013 10:32 AM
Bells Seeking Host Families for 2013 Summer
The Bellingham Bells Baseball Club is currently looking for host families for the 2013 summer season. This summer, the Bells roster spans the entire nation, and is full of young men coming to Bellingham to chase their dream of playing Major League Baseball following their college careers. Players will join the Bells from schools near and far, ranging from the University of Washington to the University of Maine. One of the ways in which the Bells support these players is by finding them a host family with whom they will live for the summer.
Host families are at the center of the Bells success. Each year, the opportunity for collegiate ballplayers to become part of the Bellingham community has been essential to the teams' achievements. Relationships built with host families make these players feel, at least a little bit, like they are at home, even if their true home is thousands of miles away.
"Our host families are some of the best in the Pacific Northwest," said Bells GM Nick Caples. "The way our players are welcomed in each and every year contributes to the great experience our players have in Bellingham. Relationships don't just last for the summer, but rather a lifetime. Families stay in touch with ballplayers long after they take the next step in their professional career."
Players will begin to arrive as early as June 1st, and will continue to trickle in depending on the completion of their academic calendar. The players will stay through the summer season, which concludes in Mid-August. While the schedule runs June through August, the team spends half of the summer on road trips, which allows families to have plenty of time to themselves as well.
Benefits of being a host family for the Bells include: complimentary tickets to all home games for each member of the family living at home, 50% discount on the fee for the Bells summer baseball camp for each (age appropriate) kid living at home, two Bells hats and t-shirts, a 20% discount on all Bells team merchandise throughout the season, an invitation to a host family celebration during the season, and a special night at the ballpark on August 7th where host families will be honored by the team and the community.
Additional information can be found on the Bells website here , and interested families can contact Bells GM Nick Caples at (360) 746-0406.