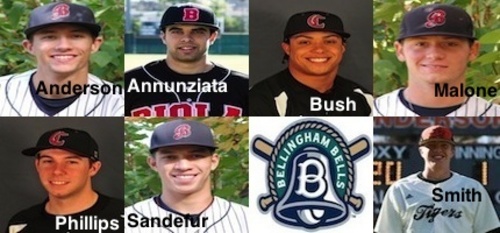 03/27/2013 12:42 PM
The Bellingham Bells have completed the 2013 roster with the addition of seven "10 day players." Every team signs groups of temporary players to fill out the roster in the early part of the season, as the arrival of all the full time players can be delayed due to differing ends to the academic calendar. "We look far and wide to find these guys," said Bells assistant coach Jim Clem. "We believe each one of them could make the difference in our early season success.
Three of these 10-day players come from the Bellevue College Bulldogs. Nate Anderson, a 6'1 freshman outfielder from Newport High School hit .318 as a senior and lettered in football and basketball in addition to on the diamond. Ryan Malone, a 6'0 freshman infielder from Tahoma High School was a two time All SPSL 4A honorable mention shortstop and played in the Babe Ruth World Series. Aaron Sandefur, a 6'3 right-handed pitcher out of Newport High School posted a 2.26 ERA with 45 strikeouts in 40.1 innings pitched as a senior.
Jacob Phillips joins the Bells from Campbellsville University. Phillips is a 6'0 junior right-handed pitcher, who spent the first two years of school at Pierce College, where he saw time on the mound and at the plate. Phillips went 5-1 with a 4.00 ERA as a sophomore at Pierce College in the 2011-2012 season, leading his team to victory in the NWAACC championships. Michael Bush, a 5'8 infielder from Seattle also comes from the Tigers. The junior began his college career at Lewis & Clark St.
Riley Smith, a 6'2 junior from Bellevue, WA marks the 6th 10-day player to join the Bells. Smith is a right-handed hitting infielder from Occidental College. The final 10-day player to join the Bells in 2013 is Michael Annunziata, a switch-hitting junior infielder from Biola University. Annunziata joins teammate Johnny Farrington in Bellingham this summer.
All of these 10-day players are vital to the 2013 Bells squad. On occasion, one of these 10-day players will become a full time roster member. "An example of this is Jarel Lewis," said coach Clem. "Lewis was one of the best players on the team last summer, and is an example of someone who made the most of their opportunity turning a 10-day roster spot into a full time one."
"Regardless of whether or not they make the roster full-time, while they are here, they are a very important part of our team," said Clem. "I can't begin to tell you how excited we are about this group of players becoming Bells this summer."