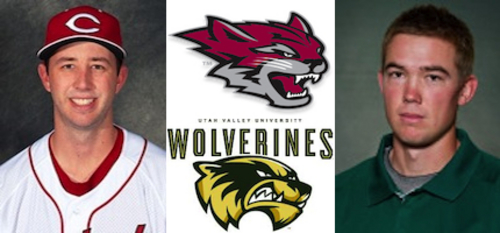 03/25/2013 11:20 AM
The Bellingham Bells Baseball Club has signed two more players for the 2013 season, completing the full time roster at 27 players. Nick Baker, from Chico State University, and Andrew Freter, from Utah Valley University will play ball in Bellingham this summer.
Nick Baker, a 6'2 right-handed pitcher is a junior for the Wildcats. A graduate of Palm Desert High School, the righty headlines the Chico State pitching staff. Going into 2013, Baker was one of the most dominant pitchers on the Wildcats roster, and he has been equally impressive in 2013. "Baker is a kid we've had our eyes on for a while," said Bells Assistant Coach Jim Clem. "I can't tell you enough how excited we are that Nick is joining the team."
So far this season, the junior has made 6 starts, going 4-0 with a 0.66 ERA. He has 36 strikeouts and only 3 walks in 40.2 innings pitched. The La Quinta, CA resident is the 13th pitcher on the 2013 roster. Bells general manager Nick Caples said "Baker comes highly recommended by former Bells assistant coach Damon Lessler, now an assistant at Chico State. Baker has a proven track record as a pitcher who always finds a way to win when he is on the mound."
Andrew Freter is a junior at Utah Valley University. The 6'3 right-handed pitcher is a graduate of Meridian High School in Idaho. Freter is currently in his first season for the Wolverines. "We've had some outstanding players from UVU in past seasons, and it's no secret that we expect Andrew to be an important piece of the team this summer," said Clem. The righty spent the past two years at the College of Southern Idaho, where he earned Second Team All-Conference honors and was an Academic All-American.
Freter has made 5 starts on the mound for the Wolverines in 2013, and has a 1-2 record with a 5.47 ERA. The Meridian, ID native solidifies the Bells 2013 pitching staff as the 14th member. "We are excited to have Freter coming to Bellingham this summer," Caples said. "He follows in the footsteps of some very impressive young men from the Utah Valley baseball program, and Andrew looks to continue that tradition both on and off the field."