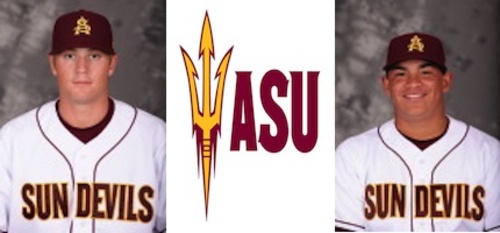 03/20/2013 9:59 AM
The 2013 Bellingham Bells sign a pair from Arizona State University in Christopher Beall and RJ Ybarra. The Sun Devils will come to Bellingham this summer from Tempe, Arizona.
Freshman Christopher Beall, a 6'2 outfielder from Phoenix rounds out the Bells outfield this summer which sits at five. Beall, a graduate from Brophy College Prep earned All-State D1 honors in 2012. As a high school senior, Beall hit .420, with 50 RBIs, and 9 home runs. "Beall is a talented outfielder that can swing well from the left side," said Bells assistant coach Jim Clem. "Chris had to wait his turn this spring as a freshman, but he's an outstanding player who will be instrumental to our success this summer." As a true freshman, Beall has appeared in five games for the #21 ranked team in the country.
RJ Ybarra, also a freshman, is a 5'11 catcher from Riverside, CA. He's the third catcher to join the 2013 Bells squad. Ybarra, a graduate of Riverside Poly HS, lettered not only in baseball, but all four years in football, and two in soccer. On the diamond, he was named First-Team All League (Big VIII) in 2009, 2010, and 2012. He was the league MVP in 2010, and holds numerous records at Riverside Poly, including career hits and hitting streak. "There is no doubt Ybarra will be a key player on our team this summer,' said Clem. "He will catch as well as play DH, and we expect RJ to be a terrific Bell." Ybarra has made two starts for the Sun Devils in 2013 and eight appearances overall.
"ASU has one of the best baseball programs in the nation," said Clem. The ASU staff led by Tim Esmay does a great job teaching the game and developing their players. We are excited to have both Ruben and Chris representing ASU on our team this summer."