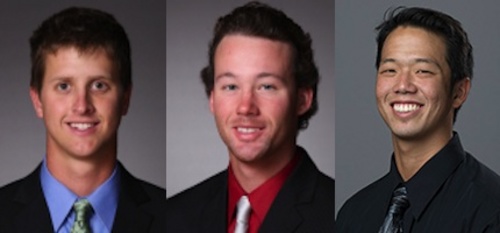 03/12/2013 10:36 AM
The Bells would like to announce the addition of three players to the 2013 roster. Jake Paulson and Jason Hager come from the Oakland University, while Ryan Yamane comes from the University of Northern Colorado. All three will make their first appearance in the West Coast League in 2013.
Jake Paulson, a 6'6 right-handed pitcher from Wixom, MI is a redshirt sophomore for the Oakland University Grizzlies. Paulson was a four-year letter-winner at Walled Lake High School, where he went 11-0 as a senior with a 1.30 ERA. In his first year at Oakland University, he redshirted and earned a spot on the Summit League All-Academic Team. In 2012, the righty finished the season with a 2-0 record, posting a 2.08 ERA with 20 strikeouts in 30.1 IP. He appeared in 19 games including three starts. "Jake is a tall, hard throwing RHP who features a hard fastball and a sharp slider," said Bells assistant coach Jim Clem. "He pitches a lot for Oakland U and will be a seasoned pitcher for us in big game situations." In three starts thus far in 2013, Paulson is 0-2 with a 3.94 ERA.
Jason Hager is a left-handed redshirt junior for the Grizzlies. The 6'1 lefty comes from Swartz Creek, Michigan. He was a two-time district champion in high school before joining the Grizzlies. In 2010, the lefty made three appearances on the mound, before being named to the Summit League All-Academic Team. Hager didn't appear in any games in 2011 and earned a redshirt. In 2012, Hager finished the season with a 5-3 record, posting a 4.34 ERA in 64.1 IP. The lefty led the team in strikeouts, pitching 3 complete games. Hager was named to the Summit League All-Tournament Team. "Jason is versatile and could be used as a starter or closer," said Clem. "He is a seasoned lefty who will be a great person to have on our team." In 3 starts so far in 2013, Hager is 0-1 with a 5.19 ERA.
Ryan Yamane is a sophomore at the University of Northern Colorado. The left-handed hitting infielder calls Honolulu home. Yamane lettered three times in high school, where he was an All-State selection in 2010. As a true freshman in 2012, Yamane played 55 games, starting 50 of them. He hit .319 that year, going 40-76 (.526) as a leadoff hitter. Yamane drew a team high 43 walks, the seventh-most in a single season at Northern Colorado. "Ryan is a key player for the University of Northern Colorado," said Clem. "He's an outstanding defensive player who has good speed and hits at the top of the order for the Bears. He will be fun to watch in a Bells uniform this summer."
The Bells are excited about all three of these additions for 2013. "Hager and Paulson are both at the top of the rotation for Oakland University," said Clem. "It will be fun for us to have representation from the Golden Grizzlies program, as Coach Musachio does a great job there."