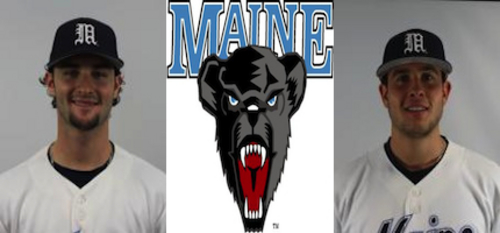 03/07/2013 9:01 AM
The Bells would like to announce the signing of two players from the University of Maine. Black Bears pitcher/catcher Mike Connolly and infielder Alex Calbick will make the cross-country trip to play at Joe Martin Field this summer.
Mike Connolly, a 6'0 right-handed hitting pitcher/catcher from Middleborough, MA is a junior at the University of Maine. Connolly made an immediate impact as a freshman after captaining Bridgewater-Raynham Regional High School. As a true freshman in 2011, Connolly started 26 games, hitting .248, with 10 RBI's and one HR. He spent the 2012 summer playing for the Harwich Mariners of the Cape Cod League.
In 2012, the righty split time behind the plate and on the mound. Connolly was named to the America East All-Tournament Team after allowing just one run and five hits over eight innings of work. He struck out 52 batters in 65 innings pitched throughout the season. He saw action on the field in 14 games as a sophomore. "His versatility will likely be a great asset to our team," said Bells assistant coach Jim Clem. "He's described as the ultimate team player, and we are very pleased to have him coming to Bellingham." In 2013, Connolly has started three games and is 1-2 on the mound with a 2.50 ERA, with 12 strikeouts in 18 innings pitched. At the plate, he's started eight games, hitting .231 with 3 RBI's. The highlight of the early season for Connolly was on March 5, where he went 5.2 IP, allowing two runs, both unearned, and striking out five in Coral Gables vs. the nationally ranked Miami Hurricanes.
Alex Calbick is a 6'0 left handed hitting infielder from Burnaby, BC. Calbick is a junior for the Black Bears, who like Connolly, made an immediate impact as a true freshman. In 2011, he was named to the America East Second Team, and All-Rookie Team. Calbick was a Louisville Slugger Freshman All-American, appearing in 57 games, starting all but one. The lefty hit .280 with 30 RBI's and five HR's. He had multiple hits in 16 games. "This is essentially a home coming opportunity for Alex," said Clem. "With his exceptional experience, we expect him to play both corner infield positions and provide leadership to our team."
Calbick appeared in every game as a sophomore as well, starting all but one. He hit .283 with 43 RBI's and 40 runs scored. He tied for the team lead in doubles with 18 and HR's with five. Calbick has started all 13 games thus far in the 2013 season. He is second on the team in extra base hits, and continues his streak of 126 consecutive games played. Calbick has spent the past two summers playing in the Cape Cod League with the Chatham Anglers. "Alex is talked about as a high character young man," said Clem. "We can't wait to have him in a Bells uniform.