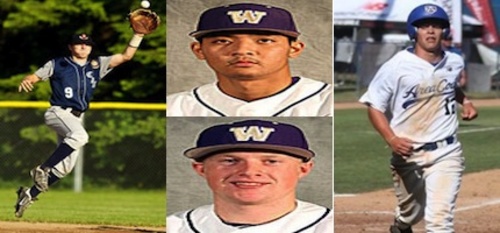 02/18/2013 12:39 PM
The Bells are pleased to announce the signing of four players for the 2013 season. All four come from the University of Washington Huskies baseball program. Pitcher Dae Kim, infielder Alex Schmidt, and future Husky outfielders Jack Meggs and Mitch Bevacqua will join Bellingham this summer.
Dae Kim, a 6'5 righty is a resident of Honolulu, HI. Kim is currently a junior at UW, his second year as a Husky. The righty pitched in six games in 2012, all out of the bullpen. "We expect Dae to do great things for the Bells this summer," said assistant coach Jim Clem. "He's a hard throwing righty, who has excellent movement on his fastball." Kim was named first team All-Golden Valley Conference as a freshman at Feather River College, where he posted a 5-2 record and a 2.70 ERA.
Alex Schmidt is a sophomore out of Lynnwood, Washington. He is currently in his first season as a Husky after spending his freshman year at Western Nevada College. The third baseman led Western Nevada College to the JUCO World Series last season where they finished 6th. "We expect Alex to be an impact player for the Bells who could hit in the middle of our order," said Clem. "He is a left-handed bat that can hit for both average and power."
Jack Meggs is part of the 2013 Washington Huskies signing class. An outfielder from Bellevue, WA, Meggs will play for his father Lindsay at UW. Meggs is a three-time, 1st team all-league selection out of Bellevue High in baseball, while also the quarterback of the Bellevue football state championship team. "Jack is an exceptional athlete who runs well and can hit well from the left side," said coach Clem. "He's a feisty player who works hard, has great character, and will bring high energy to the yard each day."
Mitchell Bevacqua is a UW commitment out of Lake City High School in Coeur d'Alene, Idaho. The 6'0" right handed outfielder will graduate high school this spring. He will likely be a big part of the Bells outfield this summer. "Mitch is a big recruit with a lot of interest from MLB," said Clem. "He's a special talent and is a high character kid as well."
These four Washington Husky signees will join the five returning Bells who have all been signed for another go around in Bellingham.