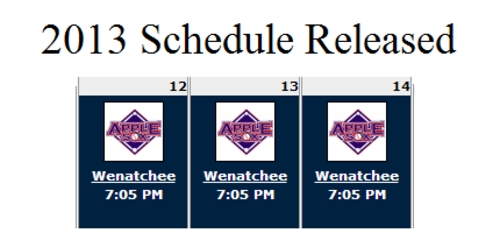 12/11/2012 2:34 PM
Bells release 2013 schedule! The opening homestand is on June 12th and will feature a rematch of the 2012 Division Series against Wenatchee.
2013 schedule highlights
54 total league games
Two new expansion teams
First Bells homestand begins June 12th
Monday-Saturday games at 7:05
Sunday games at 3:05
WCL Opening Day June 5th
Regular season ends August 11th
Divisional playoff series August 13-15
Championship series August 17, 19, 20
The 2013 schedule features a 54 league schedule, 27 at home, as well as some additional non league opponents coming to Bellingham throughout the summer. The team will begin the campaign on June 5th on the road, then returning for the first home game at Joe Martin Field on June 12th. The home opening series will be against the defending WCL champion Wenatchee AppleSox. The AppleSox and Bells last met during the 2012 playoffs, so the Bells will be hungry for a some revenge.
The following homestand on June 18th will feature one of the two the new expansion franchises, the Victoria HarbourCats. Bells fans will have an opportunity to see the other expansion team, the Medford Rogues, when they come to town for a three game series begining July 30th.
The regular season concludes on August 11th with the Bells in Victoria, and the post season to begin on August 13th.
The playoff format remains the same with a divisional and championship round. The division best of 3 series will take place August 13-15, with the #1 seed from each division playing at home for games two and three of the series. The championship best of 3 series is slated for August 17, 19, 20. The South will have home field advantage for the Championship series, so the last potential home date for the Bells would be August 17th.
Stay tuned for more details on non league games as well as exciting promotion and giveaway nights!