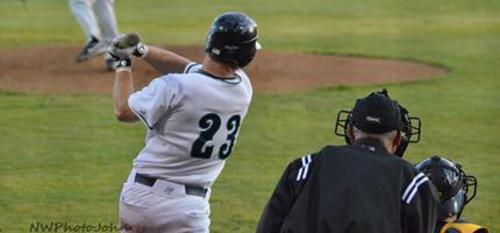 07/31/2012 11:08 PM
Bells starter Adam Gunn goes for season highs in innings pitched (8) and strikeouts (11), as Bellingham takes game on in Walla Walla, 4-0.
The Bells (28-17) started their final road trip of the regular season with their ninth shutout of the season. Bellingham got out in front early in the second inning. After a one out walk to Derek Atkinson, Jarel Lewis belted his third homerun of the season over the left field scoreboard. With the score 2-0, Adam Gunn would continue his outstanding season by striking out the side in the bottom of the second.
Atkinson would extend the Bells lead in the top of the third. Desmond Santos reached on a single to center, after reaching third base, with two outs, Atkinson drove him home with a single to right. The Bells would add one more run in the 6th inning on a Joe Winterburn two out flair single to center.
Adam Gunn earned his fourth win of the season going eight innings, allowing no runs on seven hits and striking out 11 with two walks. The loss went to Sweets starter Tyler Roberts who falls to 2-4 on the year. Roberts completed five innings giving up four runs on 5 hits, walking four and fanning six.
The win put the Bells 3.5 games ahead of the Kelowna Falcons for second place and final playoff spot The win also keeps pace with the Wenatchee Applesox who are 2.5 games up in first.
Bellingham returns to action tomorrow as they finish the two game series. That game will start at 7:05pm and can be heard on Bellinghambells.com.