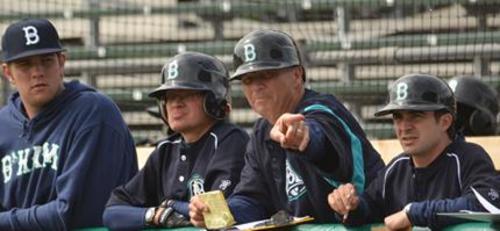 07/29/2012 4:15 PM
The Bellingham Bells defeated the Bend Elks Sunday afternoon, 8-1 completing the three game sweep. Bells catcher Joe Winterburn went 3-3 with two RBI and Johnny Farrington went 1-3 with 2 RBI in the victory.
Bend got on the board early in the top of the first inning against Bells starter Jeff Gonzales. Gonzales retired the first two batters of the inning but then walked Bo Walter. That brought up Will Sparks who lined a ball down the left field line which brought home Walter and gave Bend a 1-0 lead.
After getting shutout the night before, the Bells offense was ready to go Sunday afternoon. In the bottom of the second inning, the Bells jumped all over Bend starter Kyle Doyle. Grant Fink flew out for the first out of the inning and he would be the last batter Doyle would retire. Doyle surrendered back to back to back singles from Derek Atkinson, Jarel Lewis and Kai Hatch which loaded the bases. Jonny Locher singled to tie the game at one with an RBI single followed by a two run double from Joe Winterburn to put the Bells up 3-1. Johnny Farrington ended Doyle's afternoon after singling home two more runs and giving the Bells a commanding 5-1 lead after two innings.
The Bells would add three more runs to their lead in the bottom of the sixth inning against Bend reliever Daniel Grazzini. With one out Jonny Locher singled followed by Joe Winterburn's third hit of the day and Johnny Farrington walked to load the bases with one out. Santos grounded out to bring home a run for the Bells and make the lead 6-1 and Andrew Ely followed with an RBI single to bring it to 7-1 Bells. Grant Fink worked a walk and Farrington came home to score on ball four which got past the Bend catcher Parker Guinn and gave the Bells an 8-1 lead.
In his first start since June 21st, Bells starter Jeff Gonzales looked very good on the mound. Gonzales pitched six strong innings only allowing that first inning run on four hits and he struck out four earning his third victory of the year. The Bells bullpen was brilliant following Gonzales, retiring all nine batters they faced. Karl Myers, Keith Zuniga and Davis Engel each pitched one scoreless inning securing the Bells 8-1 victory.
The Bells will have an off day Monday and will head out to Walla Walla on Tuesday to begin a quick two game series with the Sweets. From there the Bells will head to Wenatchee to begin a crucial four game series against the AppleSox who the Bells trail by a game and a half for the first spot in the east division.
Boxscore: http://www.pointstreak.com/baseball/boxscore.html?gameid=107252