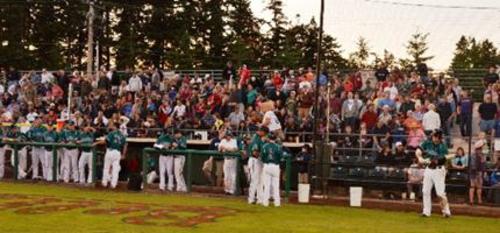 07/27/2012 9:49 PM
The Bellingham Bells had their four game winning streak snapped Friday night, losing to the Kelowna Falcons 8-2. Kelowna shortstop Patrick Johnson had three RBI on the night and Troy Conyers had two RBI.
There Bells did not have a base runner until the bottom of the third inning against Kelowna starter Tyler Huelzen. With two outs in the third, Bells catcher Joe Winterburn singled to left field to give the Bells their first hit of the game. With Johnny Farrington batting, Huelzen tried to pick off Winterburn but threw the ball away which allowed Winterburn to advance all the way to third. Farrington then followed it up with a big two out RBI double scoring Winterburn and giving the Bells a 1-0 lead after three.
Kelowna struck back in the top of the fourth inning against Bells starter Sean Hartnett. Hartnett struck out Greg Friesen to start the inning, and then Andrew Ely made a great play at third to throw out Kyle Pearson for the second out. Then Troy Conyers reached on a fielding error from Kai Hatch followed by a Kyle Moses single which gave Kelowna their first hit of the game. Hartnett would walk Tucker Alexander to load the bases with two outs and then Patrick Johnson singled to bring home two for Kelowna and they took the 2-1 lead.
Kelowna added to their lead in the top of the fifth inning scoring three runs. Kyle Pearson led off the inning with a double and was brought in on an RBI single from Troy Conyers which gave Kelowna a 3-1 lead. Conyers was caught stealing for the first out, but Kyle Moses and Tucker Alexander hit back to back singles which ended Sean Hartnett's night. Randy Button relieved Hartnett and immediately gave up an RBI single to Zach Johnson to give Kelowna a 4-1 lead. Tyler Qualls would add a sacrifice fly and make the lead 5-1. Hartnett went 5 1/3 innings allowing six hits and five runs and took the loss.
Kelowna would add another run to their lead in the top of the seventh inning on a Troy Conyers second RBI single to stretch the lead to 6-1. The Falcons busted the game wide open in the top of the eighth inning scoring two runs off of Bells reliever Will Ballowe and took an 8-1 lead. The Bells put a run on the board in the bottom of the eighth on an RBI single from Johnny Farrington and cut the lead to 8-2. They failed to score in the ninth and lost 8-2 to the Falcons.
The Bells and Falcons will play the final game of the four game series Saturday night at 7:05 PM. Saturday is Best Western Lakeway Inn night and the Bells Fleece Blanket giveaway night.
Boxscore: http://www.pointstreak.com/baseball/boxscore.html?gameid=64491