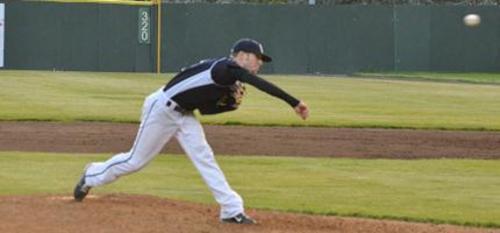 07/21/2012 9:42 PM
Before a crowd of 1,450 people at Joe Martin Field, the Bellingham Bells defeated the Bend Elks 2-0, Saturday night. Davis Engel earned the victory for the Bells, pitching six shutout innings in relief and was backed by Andrew Ely's first home run of the year.
Bells starter Corey Carma was on a controlled start and only pitched three innings so he would be able to pitch in Tuesday's WCL All-Star game in Walla Walla. Carma and Bend starter JR Bunda kept the game scoreless through three innings. Carma was done after three and was relieved by Davis Engel who was absolutely brilliant. Engel retired the first eight batters he faced and did not allow a base runner until Bend first basemen Bo Walter singled with two outs in the sixth.
After failing to score with a bases loaded no out opportunity in the bottom of the fifth, the Bells finally broke the scoreless tie in the sixth. Bells All-Star third basemen Andrew Ely crushed Bunda's 3-1 pitch way over the right field fence for his first home run of the season which gave the Bells a 1-0 lead after six innings. Ely had his second straight three hit night, going 3-4 at the plate along with the game winning RBI on that home run.
The score stayed 1-0 Bells until the bottom of the eighth inning when the Bells added an insurance run to their lead. Johnny Farrington was hit by Daniel Grazzini's pitch with one out which was followed by a beautiful bunt single by Andrew Ely to put two men on with one out. The next batter Nate Causey delivered with an RBI single scoring Farrington and giving the Bells a 2-0 lead heading into the ninth inning.
Davis Engel was sent back out for in the ninth to try and secure the victory. Engel retired the first two batters of the inning but gave up back to back singles to Grant Newton and Shawn Obrien with two outs. Engel struck out Cullen Hendrickson on three pitches to end the game and give the Bells a 2-0 victory and their seventh shutout of the year. Engel pitched six shutout innings, scattering only four hits while walking none and striking out six batters earning his second victory of the year
The Bells will go for the sweep of the Bend Elks tomorrow at 6:05 PM in the last game before the two day All-Star break beginning Monday.
Boxscore: http://www.pointstreak.com/baseball/boxscore.html?gameid=64476