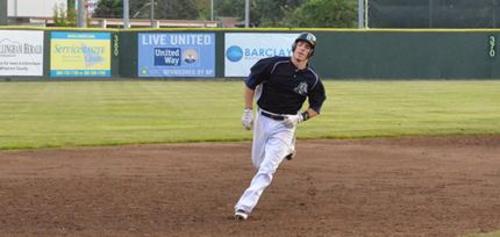 Fink went 3-4 with his second homerun of the season and 3 RBI.
07/17/2012 11:10 PM
The Bells dominate in game two from Kelowna. Adam Gunn twirls 7 shutout innings striking out 10, and Grant Fink goes 3-4, blasting a homerun with a double and 3 RBI's.
In his third start of the season, Bells pitcher Adam Gunn was overpowering in the win, improving to 2-0 on the year and lowering his season ERA to 0.45. Gunn flirted with a perfect game into the 6th inning. With two outs, the ninth hitter in the Falcons order, Patrick Johnson, flared a single over the head of shortstop Des Santos for the first hit of the game. Gunn would go on to throw 7 complete innings, striking out 10 on 95 pitches, and facing two over the minimum.
The Bells (22-13) offense was explosive, scoring 9 runs on 10 hits. The scoring started in the second inning when Grant Fink hit a mammoth solo homerun to deep left field, the ball would end up hitting ¾ of the way up the light standard.
Bellingham added a run in the fifth on a two out RBI from Andrew Ely that scored Joe Winterburn. Winterburn made it 3-0 in the 7th with a sacrifice fly. The big inning came in the 8th, when the Bells scored 6 runs. The frame started with the first three hitters reaching to load the bases. Derek Atkinson then hit a double down the right field line that brought home two runs. On the very next pitch Fink shot a double down the left field line bringing in two more. The final hit of the inning was from Winterburn, hitting his second double of the game and driving in one of his two RBI's of the night.
With the win the Bells are 2.5 games out of first place and 2.5 games ahead of the Falcons in second place. Bellingham has split the first of two games with rival Kelowna. Game three will be tomorrow starting at 6:35.