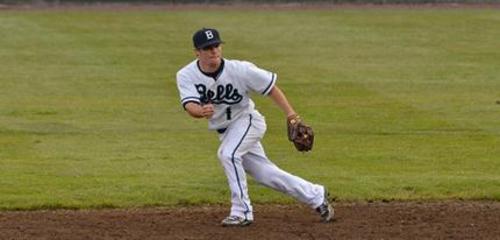 07/09/2012 9:20 PM
In a non-league matchup, The Bellingham Bells defeated the Portland Stars, 10-1 Monday night. Portland struggled defensively, committing six errors on the night and surrendering four unearned runs.
The Stars jumped out to a quick 1-0 lead in the top of the first inning as Brennon Mossholder led off the inning with a double against Bells starter Randy Button. Button struck out the next two batters but gave up a two out single to Ryan Rodriguez. The ball was misplayed by left fielder Jake Peevyhouse allowing Mossholder to score and give Portland a 1-0 lead.
The Bells got on the board in the bottom of the second inning against Portland starter Andrew Villeneuve. Rouric Bridgewater walked to lead off the inning. Jake Peevyhouse hit a grounder to Portland first basemen Troy Riggins who overthrew second base and allowed Bridgewater to advance. Then the left fielder Donnie Bradley overthrew third which allowed Bridgewater to score and Peevyhouse to reach third which tied the game 1-1. The next batter Jonny Locher grounded out to second which brought home Peevyhouse and gave the Bells a 2-1 lead.
Bells starter Randy Button pitched five strong innings, only allowing one run, and was helped out by some terrific defensive plays from second basemen Johnny Farrington. In the top of the fourth inning Farrington made back to back diving plays, stealing two hits away from the Stars. The Bells added three more runs to their lead in the bottom of the fourth inning. Peevyhouse led off the inning with a single and two batters later scored on a throwing error from Villeneuve to give the Bells a 3-1 lead. Bells catcher Joe Winterburn and Johnny Farrington had RBI singles later in the inning to stretch the Bells lead to 5-1.
The Bells added two more runs to their lead in the bottom of the sixth inning on a throwing error and a sacrifice fly from third basemen Grant Fink which gave the Bells a 7-1 lead after six. Grant Fink was not done yet as he added a monster three run home run in the bottom of the eighth inning off of Portland pitcher Rick Francisco. Fink drilled the 1-1 count from Francisco into dead center field, easily clearing the wall, which is measured at 370 feet. Fink's home run gave the Bells a commanding 10-1 lead which would become final after a quick one-two-three ninth inning from Logan West.

The Bells and Stars will play one more non-league game Tuesday night at 7:05 PM.
Boxscore: http://www.pointstreak.com/baseball/boxscore.html?gameid=99857