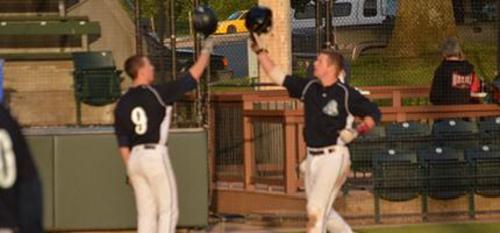 07/08/2012 9:01 PM
The Bellingham Bells shutout the Cowlitz Black Bears 5-0 Sunday night, and won their second straight home series. The Bells received a fantastic pitching performance from starter Adam Gunn who pitched six shutout innings only allowing one hit and earning his first win of the season.
The Bells got on the board first in the bottom of the first against Cowlitz starter Felipe Perez. The inning started with a fielding error by Cowlitz third basemen Ben Swinford allowing Johnny Farrington to reach safely. Andrew Ely bunted Farrington to second which was followed by a Jarel Lewis single to put men at the corners with one out. Then Bells catcher Nate Causey hit a sacrifice fly to deep center to give the Bells a 1-0 lead.
The score remained 1-0 Bells until the bottom of the fourth inning when the Bells added to their lead. Jarel Lewis led off the inning with a single which brought up Nate Causey who delivered once again. Causey hammered the 1-0 pitch from Felipe Perez over the right field wall for his third home run of the year, a two run shot to give the Bells a 3-0 lead after four innings. Causey finished the night, 1-2 with three RBI bringing his season total to 24 which is tied for the league lead.
Bells starter Adam Gunn was sensational on the mound and did not allow a hit until Derrick Salberg's leadoff single in the sixth inning. Salberg was quickly erased on a double play, one of four double plays on the night for the Bells defense. Gunn pitched six shutout inning only allowing one hit, and lowered his ERA to 0.69 through two starts this season. Keith Zuniga relieved Gunn in the seventh inning and pitched two shutout innings working around three hits and a walk.
The Bells would add two more runs in the bottom of the seventh inning as two runs scored on a throwing error by Cowlitz shortstop Austin Wobrock trying to throw out Johnny Farrington. That would give the Bells a 5-0 lead after seven innings.
Bells closer Karl Myers came on in the top of the ninth to try and secure the shutout. Cowlitz Brian Frattali led off the ninth with a single but that would be all the Black Bears could manage as Myers retired the next three batters to give the Bells a 5-0 victory. The Bells now have five shutouts this season, including three on this home stand. The Bells next game will be Monday night against West Coast League Portland at 7:05 PM.
Boxscore: http://www.pointstreak.com/baseball/boxscore.html?gameid=64430