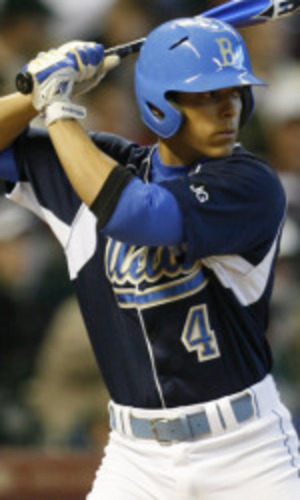 04/16/2009 1:54 PM
BELLS ANNOUNCE 2009 ROSTER
UCLA Freshman Amezquita Headlines List of Newcomers

Bellingham, WA –The 2009 Bellingham Bells roster is taking shape, and is sure to bring a lot of excitement to Joe Martin Stadium with great local talent, key returners from the 2008 team, and some exciting new additions. The roster was assembled by Bellingham native Brandon Newell, who will return as Bells Manager for the 2009 season.
"Brandon has done a great job recruiting players this year from some of the top collegiate programs in the country. We are pleased with the roster Brandon has put together for the 2009 season," said Vice President and General Manager Derrel Ebert.
Atop the list of new additions to the Bells' roster is 2008 High School Aflac All American Chris Amezquita. Amezquita is a freshman at UCLA who experienced immediate success, with a home run in his first collegiate at bat. Amezquita is expected to be the Bells starting third baseman. Two other Bruins will join him on the roster – junior pitcher JD Haver and freshman outfielder Marc Navarro.
Three WCL All Stars headline the returning players on this year's roster. Tyrell Poggemeyer will return for his third season with the Bells. Poggemeyer led the Bells pitching staff in 2008, going 6-2 with a 3.51 ERA while striking out 47. Ferndale's Danny Hennigs also returns. Hennigs started 32 games for the Bells and batted .322 in 115 at bats. The third returning All Star is Oregon State junior catcher Mike Chiarelli. Chiarelli started 25 games behind the plate for the Bells and put up solid numbers, with a batting average of .295, 3 home runs, and 19 RBIs. Other returners include Jordan Stern, Alex Besaw, and Brady Locker.
"I am very excited about this summer's team. It has a good mix of established college players, quality local talent, and exciting freshmen. The WCL is an extremely competitive league, and this group should represent our community really well," said Newell in summarizing this year's roster.
The Bells' home opener is Friday June 5th. Come and join us for Opening Night and post game fireworks, all presented by the Silver Reef Casino. Ticket packages starting as low as $48 are available at 360-527-1035.

Bellingham Bells Baseball, Summer Fun for Everyone!