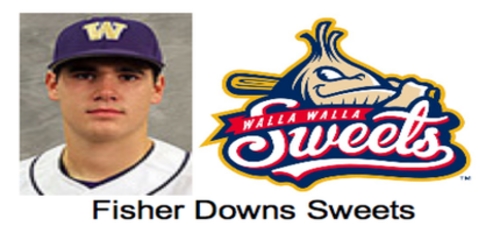 06/30/2012 11:22 PM
The Bells get a four run fifth inning and outstanding pitching to grab a game two victory over the Walla Walla Sweets, 5-1.
After a 25 minute rain dely pushed back the start of the game. Bellingham (14-8) gave the ball to Jared Fisher for his third start of the season. Fisher gave up a run in the second inning on a two out double from catcher J.J. Robinson, but that would prove to be all the Sweets (10-13) would get.
Fisher went eight innings allowing one run, six hits, with a walk and nine strikeouts. The outing was the longest of the season for Fisher who threw 128 pitches. Seven of his nine punch-outs came in the fifth inning or later. Jacob Coats came in from the bullpen striking out the side in the ninth.
The offense struck in the fifth inning for the Bells. Joe Winterburn led off with a single, Jonny Locher was asked to bunt but failed on the first two attempts, on the third pitch Locher crushed a double off the left field wall bringing Winterburn home. After a Johnny Farrington single, Jarel Lewis hit a sacrifice fly scoring the second run. Later in the inning Nate Causey pounded a double right that plated two more runs.
The Bells would add one more on a Lewis double in the ninth. The loss went to Sweets starter Matt Imhof who gave up four runs on six hits, in 4.1 innings.
The Bells return to action tomorrow in Cowlitz as the take on the Black Bears. The two teams will make up games that were postponed due to rain on June 23 & 24. The double header will be two seven-inning affairs with game one starting a 5:00, and game two 30 minutes after the conclusion of game one.