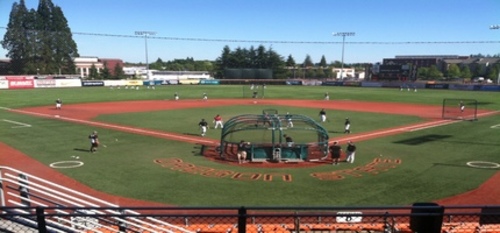 06/28/2012 11:56 PM
For the second time in the series, a walk-off single from Caleb Whalen brought home the winning run for the Corvallis Knights (16-5) in a 3-2 victory over the Bellingham Bells (13-7) in 10 innings at Goss Stadium on Thursday.
Whalen had two RBIs and a pair of hits for the Knights who took the series, two games to three.
Corvallis took an early 1-0 lead on a third inning RBI single from Whalen. The Bells answered back in the next inning, Derek Atkinson led off with a triple into the left centerfield gap. Des Santos then reached on an error allowing Atkinson to score and Santos moved into scoring position. Kai Hatch bunted Santos to third, Jonny Locher then placed a squeeze bunt down that scored Santos.
The Bells would carry that lead into the sixth inning when Marc Gallegos hit a blooper to shallow right field that brought in Nick Torres.
The game would remain tied into the tenth. Nate Blackham had his third hit of the game coming with one out. Blackham then stole second setting the stage for Whalen who drove the game winning single up the middle.
In his first start of the year, Adam Gunn pitched great for the Bells. The Knights managed seven hits off of Gunn, who allowed one earned run, walked two and struck out three during his 7 innings of work.
Greg Mahle got the win, bringing his record to 1-0. Mahle struck out one, and gave up no hits.
Karl Myers (1-2) had the loss for the Bells. He went just 2 1/3 innings, walked none, struck out two, and allowed final run.
The loss was the third walk off loss for the Bells on the road trip.
Bellingham returns to action tomorrow as they face their Eastern Division opponent Walla Walla Sweets. The game is set for a 7:05 first pitch from Walla Walla.