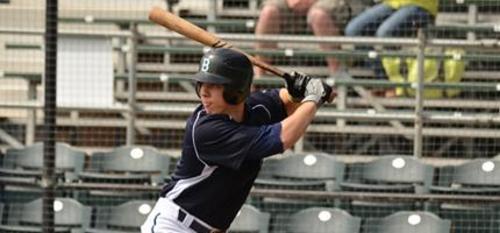 Derek Atkinson supplied a two-run homer in the third inning.
06/27/2012 11:02 PM
Sean Hartnett flirted with perfection Wednesday, leading the Bells to a 6-0 victory in game two from Corvallis.
In his third start of the season Hartnett was efficient early, setting the side down in order in the first two innings. With two outs in the third, Alex Foulon laced a grounder down the third base line, Andrew Ely made a sprawling stop behind the bag, leapt to his feet and fired to first in time to save a possible first hit.
Hartnett carried a perfect game into the seventh inning when Nathan Blackham was hit by the pitch, giving Corvallis their first base runner of the game. On the very next pitch catcher Joe Winterburn picked off Blackham. Hartnett faced the minimum through seven innings.
In the bottom of the eighth lead off hitter Greg Mahle hit a sinking liner out to left field, Michael Gerlach closed the distance quickly jumping into a headlong dive, but the ball hit the heel of his glove and popped out for the first hit of the game.
Hartnett tossed a personal high eight scoreless innings of one hit baseball, striking out five on 102 pitches.
The Bells offense went to work on Knights starter A.J. Burke early. In the second inning, after Derek Atkinson, Michael Gerlach, and Rouric Bridgewater all reached, Joe Winterburn smacked a two out single to left that scored two. Johnny Farrington then followed with a single to center that also plated a pair of Bells.
Bellingham would go on to add two more runs in the third on a two-run homer from Atkinson, his second of the season.
Knight's starter Burke went 2.1 innings allowing all six runs on five hits and took the loss.
The win snapped a three game losing streak for the Bells. The Knights lost for the first time at home all season and ended their eleven game winning streak.
The rubber match will be tomorrow starting at 6:40 from Goss Stadium.